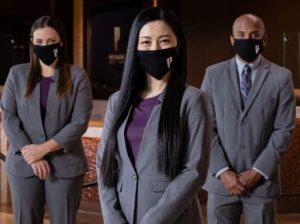 TEMECULA, Calif. – (Dec. 6, 2021) – Pechanga Resort Casino announced it is increasing the minimum wages for all of its hourly tipped and non-tipped Team Members, helping more than two-thirds of the workforce. The increases put Pechanga well-ahead of California's current and 2022 minimum wage rate. The higher minimum rates include $17.00 per hour for non-tipped employees, an increase of $3.00 per hour based on current minimum wage and $2 over the 2022 rate.
$14.00 per hour for tipped team members (increase of $1.00 per hour based on current wages)
$12.00 per hour for dealers (increase of $0.50 per hour based on current wages)
California's current minimum wage is $14.00 for employers with 26 or more workers. The federal minimum wage remains at $7.25.
As an added expression of gratitude, Pechanga is also doubling its annual team member bonus. This means Team Members will receive a bonus of up to $2,000, which is an additional $1,000 over the regular bonus, depending on longevity. In some cases, team members will receive up to five times more than the regular bonus.
"This is a big help. I support my family, eight people, in the Philippines," said Ligaya Green, an environmental services specialist at Pechanga Resort Casino. "When I heard about the extra, the raise, I knew that meant extra for them, especially for medicine and medical care for my mom who has COPD. The pandemic hit there really hard as my brother and my niece lost their jobs, but I just can't look the other way on them. The raise is great and I know so many of the team here are happy about it, too."
"This higher wage will not only help us continue to attract and retain the best talent in the gaming industry, but it also again demonstrates Pechanga's deep care and gratitude for our team," said Tjeerd Brink, General Manager of Pechanga Resort Casino. "Pechanga already has one of the best compensation packages in the gaming industry for our team members, including 401k matching, medical, dental and vision insurance, tuition reimbursement, daily free meals, and a lot more."
Pechanga will host a Career Fair Thursday, December 9 from 8 a.m. to 12 p.m. and 1 p.m. to 4 p.m. in the Eagle's Nest, the top floor of the Casino Tower. Pechanga is seeking candidates for several departments, including several positions in Hotel and Food and Beverage operations. Available positions include Pechanga hotel, spa, golf, with roles such as cosmetologist, guest services representative, reservation attendant, concierge, environmental services specialist and more.
Pechanga also offers some of the highest sign on incentives in the casino gaming industry.
$1,000 sign on incentive for Table Games floor person, Marketing operations ambassador, environmental services specialist, steward, count drop team
$1,500 sign on incentive for Guest Room Attendant
$2,500 sign on incentive for Line Cook
Pechanga also offers its current Team Members up to $300 for successfully referring candidates to work at the resort/casino.