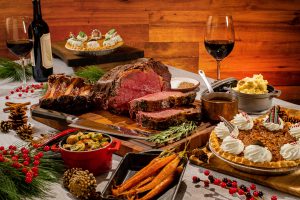 TEMECULA, Calif. — (Dec. 9, 2021) – Numerous choices for every palate. Eight acclaimed chefs. Zero cleanup and preparation on your part. It's the recipe for the perfect holiday feast and Pechanga Resort Casino provides a setting for every taste, from casual to upscale, from festive to romantic and from traditional to unique.
Pechanga Resort Casino's restaurants and banquet kitchen feature special Christmas Day menus that bring a smorgasbord of selections to the table. Those special menus can be found at the 1882 Cantina, the AAA Four Diamond Great Oak Steakhouse, Paisano's Italian, Kelsey's, Umi Sushi & Oyster Bar, the Pechanga Café and Journey's End at the Journey at Pechanga golf course, and a sought-after option this year, at your own house with Pechanga's Holiday to Go meal.
Back by popular demand, Pechanga's Holiday to Go take out Christmas feast serves six people. The spread includes bone-in prime rib, mashed potatoes, roasted baby carrots, Brussels sprouts, au jus, creamy horseradish, apple or pecan pie and fresh rolls and butter. The meal can be taken home for $210. Call (951) 770-2307 to place an order by December 17. Pechanga Holiday to Go meals are made fresh on Christmas. Guests who pre-ordered can pick up their feast curbside outside the Blends Coffee Bar on Saturday, December 25 from 10 a.m. to 3 p.m.
If an upscale or romantic Christmas feast is on your menu, look to the AAA Four Diamond and Wine Spectator award winning Great Oak Steakhouse. The chef prepares a three-course dinner featuring New York Steak, Walnut Crusted Salmon, Surf & Turf or Cornish Game Hen as entrée choices. The Great Oak Steakhouse opens at 5 p.m. and reservations are strongly recommended and can be made by visiting www.pechanga.com/eat or by calling (877) 711-2WIN.
If celebrating Christmas in an Old World Italian style is what you prefer, there's Paisano's Italian. Chef Jordan Garcia created a three-course, prix fixe menu offering guests a choice of appetizer, entrée and dessert. Paisano's Italian nightly menu will be served in addition to the Christmas special. Paisano's opens at 5 p.m., reservations are strongly recommended and can be made by visiting www.pechanga.com/eat or by calling (877) 711-2WIN.
Feeling a bit adventurous for your holiday feast? Try the popular Umi Sushi & Oyster Bar that will offer three a la carte specials. These include a fried shellfish dumpling with shrimp, scallops, king crab, spiced shrimp gravy in a fried fish-shaped puff pastry. There's the braised wagyu short rib featuring Snake River Farms mishima wagyu, brandy soy braise, panko fried scallops, cheese baked white asparagus, smoked cauliflower, ginger carrot puree. Lastly, save room for dessert because Umi offers a Mont Blanc for dessert, a sweetened chestnut puree in a tart shell. The name comes from Mont Blanc in Italy as the dessert resembles a snow capped mountain. Umi opens for dinner on Christmas Day at 5 p.m. Reservations are strongly recommended.
One of Pechanga's newest restaurants, 1882 Cantina, makes its Christmas debut with a three-course, prix fixe menu evoking the favorite ingredients and flavors of Mexico and further south. 1882 Cantina will be open for Breakfast, lunch and dinner on Christmas Day and begins serving 9 a.m. The restaurant's daily menu will also be available.
If a casual atmosphere in a fun environment is what you seek, you can find it at Kelsey's, along with your favorite sports games on the multiple flat screens. On tap for the holiday are a Lobster Truffle Mac & Cheese appetizer, Prime Rib entrée and a Sticky Toffee Pudding Eggnog for dessert. Kelsey's opens at 4 p.m. on Christmas Day.
The picturesque setting of the Temecula hills and the Journey at Pechanga golf course are your backdrop for Chef Ronnel Capacia's creations at Journey's End, located inside the Journey at Pechanga golf clubhouse. Christmas specials are served through the day and range from breakfast favorites, to hearty sandwiches and burgers, even a holiday prime rib plate. Journey's End opens its regular menu at 7 a.m. and will serve its Christmas Day specials from 11 a.m. – 4 p.m.
Open 24 hours, the Pechanga Café offers not only its wide-ranging menu of Chef Genaro Perea's comfort-food-with-an-international-flavor, but a holiday special featuring a festive pomegranate and bleu cheese salad, grilled Chilean Sea Bass glazed with honey butter and topped with macadamia nuts. A chocolate roulade is the perfect finishing touch.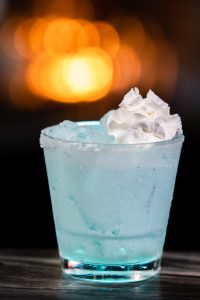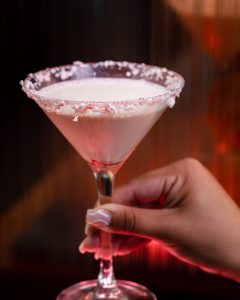 During the entire month of December, Pechanga Resort Casino bars also serve up two specialty cocktails – the Jack Frost Cocktail for $9.50 and the Peppermint Martini for $10.50. Guests 21 and older can enjoy these festive beverages at the Acorn, Corner and Round Bars inside Pechanga Resort Casino.