TEMECULA, Calif. – (Feb, 2023) – Those looking to kick off 2023 with a fresh start or a new career need look no further than Pechanga Resort Casino. The resort/casino near Temecula is hosting a career hiring day on Thursday, February 9 at 2 p.m. All potential candidates are invited to attend and learn about Pechanga's hiring process, perks of working at one of Southern California's top employers, and the chance to meet with hiring managers. They can potentially receive job offers on the spot. Positions Pechanga looks to fill include line and prep cooks, cashiers, bartenders, bar backs, stewards, cocktail servers, lifeguards, and more. Many of the jobs come with sign on incentives, including $1,000 sign on bonus for lifeguards and $2,500 for cooks who stay in their positions for six months.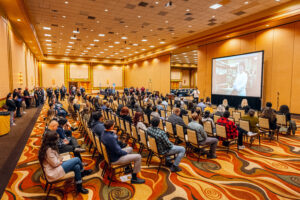 The Pechanga Career Day takes place in the Grand Ballroom near the Pechanga Summit Events Center. The event lasts approximately one hour, though job seekers can plan to stay longer if looking to speak with an on-site hiring manager. More information can be found at pechanga.com/careers.
This job fair was built on the success of the January job fair focused on positions at The Cove, Pechanga's 4.5-acre pool complex. With more than 250 attendees, this was one of Pechanga's largest job fairs to date, leading to 114 offers made and accepted during the two-day career fair.
Numerous employee benefits are also available for Pechanga Team Members, including free meals provided while on duty, medical, dental, and vision insurance, 401(K) retirement plans with employer matching contributions, longevity bonuses, tuition reimbursements, Team Member celebrations, incentive gift cards, an on-site gym, team member discounts on food and gas, and more.
Prospective candidates interested in attending the career day can upload their resumes ahead of time at the Pechanga Careers webpage – www.pechanga.com/careers. Hiring managers at Pechanga also recommend bringing a few copies with them. Walk-ins are welcome. Pechanga hiring experts recommend putting your best foot forward by dressing for success and showing up with a smile. Available job positions at Pechanga Resort Casino can be found at the Pechanga Careers website – www.pechanga.com/careers