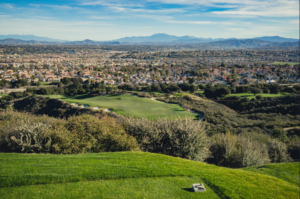 TEMECULA, Calif. – (Jan, 2023) – Journey at Pechanga golf course at Pechanga Resort Casino earned top honors from the Golf Range Association of America and from GolfNow to start out the new year. Pechanga Resort Casino's spa, Spa Pechanga, was also recently named at Top 20 spa in California by Spas of America. Journey at Pechanga takes home four awards from the annual 2023 Golfers' Choice lists by GolfNow's Golf Pass. The challenging golf track hit the mark in four categories – Top 25 Friendliest Golf Courses, Top 25 Golf Courses with the Best Amenities, Best Courses in California, and Golfers' Choice Top 10. Golf Range Association of America (GRAA) also ranked Journey on the prestigious list of Top 50 Public Facilities. Multi-award-winning PGA golf instructor Randy Chang also picked up GRAA's award for Top 100 Growth of the Game Teaching Professionals.
The Golf Pass Golfer's Choice is a comprehensive list generated by reviews and ratings submitted by members of the Golf Pass community throughout the year. For courses to qualify, they must offer public access and have received at least one review in the year prior to be eligible for the current year's list. Journey was ranked 15th for friendliest course, 2nd in off-course amenities, 3rd overall in California and 10th overall for Golfers Choice Top 10 among all courses in the United States.
The annual GRAA Awards is in its eighth year and recognizes exceptional practice facilities and teaching professionals. The Public Facilities category identifies courses that have successfully introduced the game of golf to a variety of newcomers, while inspiring and maintaining the business of the current golfer. These courses demonstrate exceptional player development programming, customer engagement and community outreach.
Journey at Pechanga has been called out by golf writers as a "bucket list course." The par 72, 7,219-yard Arthur Hills/Steve Forrest-designed championship facility allows for soaring drives and maneuverable approach shots to the greens, though players need to use strategy as much as skill to avoid trouble that comes in the form of majestic water features, venerable oak trees that shape the fairways and natural habitat for indigenous wildlife.
Randy Chang's Growth of the Game Teaching Professional award is hard earned. According to the GRAA website, professionals in this category are recognized for their consistent, unwavering commitment to growing the game of golf through coaching and player development. Randy has more than 35 years of professional golf experience and has been recognized by the PGA and golf industry with several prestigious awards, including the Instructor of the Year for the SCPGA in 2020.
Spa Pechanga at Pechanga Resort Casino ranks at the top of the list among all spas in California according to Spas of America. It is also one of the only spas in California offering massage and facial services that draw from the healing and wellbeing practices and native botanicals of Native peoples.
For more information on Journey at Pechanga, visit pechanga.com/indulge/journey.
For more information on Spa Pechanga, click pechanga.com/indulge/spa.