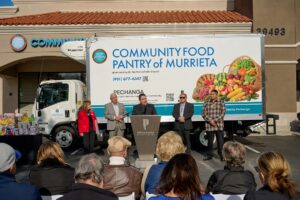 TEMECULA, Calif. — (February 13, 2023) – Pechanga representatives handed over the keys to a brand new, refrigerated box truck to the volunteers of the Community Food Pantry of Murrieta on Monday. Pantry personnel say without the truck, their clients would not have staples such as meat, eggs, milk, produce and more. During a reveal event held at the Community Food Pantry of Murrieta in Murrieta, Calif. on Monday, February 13, Pechanga rolled out a giant, 25-foot refrigerated box truck worth $157,000. Brand new and with the pantry's logo and colorful images of food affixed to the sides, Pechanga purchased the truck as a gift so the approximately 40,000 people helped by the pantry each year could continue receiving nutritious foods.
In addition, the pantry provides food to other food banks throughout the region including HOPE pantry in Lake Elsinore each week, the Temecula Bridge pantry, Fallbrook and Hemet pantries.
Grocery stores and other food purveyors in the region provide donations to the Murrieta Pantry each day. However, most will not donate perishable items without transporting them in a refrigerated truck. Pechanga getting the truck donation into high gear means the pantry can continue to receive staples such as milk, butter, eggs, poultry, and meat.
"The gift of this truck means everything to us at the Murrieta Pantry, and to everyone who relies on us," said Maria Bhanukitsiri, Manager of the Community Food Pantry of Murrieta. "Without this truck, we would have very little to offer our clients and the pantry may cease to exist. The population of our area has grown tremendously over the years, but so too has the need."
"We are honored to provide the refrigerated truck to the wonderful people at the Murrieta Pantry," said Ken Perez, President of the Pechanga Development Corporation. "It was not that long ago that our Tribe did not have much and we were the recipients of charitable community outreach. We never forget that and we look to do what we can to help those in the community who are experiencing tough times."
Pechanga's casino food supplier Sysco helped sweeten the vehicle donation by including 200 pounds of non-perishables given to the Murrieta pantry on Feb. 13. Food pantry employees say they see an increase in donations from residents during the holidays, but those drastically decrease after the first of every year.
"We rely heavily on the donations from our local grocery stores and regional creamery to be able to provide nutritious food items for our clients," said Bhanukitsiri.
Statistics reported by the Urban Institute show approximately one in five adults reported experiencing household food insecurity in the spring of 2020 and again in summer of 2022. Experts point to factors including the pandemic and high inflation rates.
The Community Food Pantry of Murrieta Pantry representatives say their volunteers collect about 1.2 million pounds of food each year from regional supermarkets and food suppliers. The food goes to people who have fallen on hard times, homebound seniors and others in the community in need of nutritious food items, instead of being directed to landfills.
The Community Food Pantry of Murrieta received their previous refrigerated truck from Pechanga in 2012. After more than 10 years on the road picking up store donations every day – which they estimate at more than 13 million pounds of food – pantry representatives say the old truck clocked very high mileage, and was badly of in need of replacement. "Pechanga stepped up and helped us keep on trucking, once again," said Bhanukitsiri.