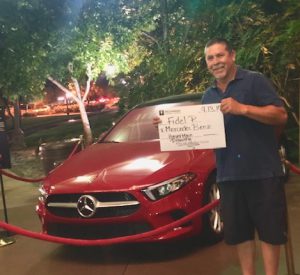 TEMECULA, Calif. — (Sept. 20, 2019) – A lot of people might say a full moon, especially on a Friday the 13th, would bring one bad luck. Quite the opposite came true for Fidel Ramos of Murrieta, Calif. Pechanga Resort Casino hosted its annual Harvest Moon Festival with a night full of cash and EasyPlay drawings on Friday, September 13. As the 9 p.m. hour approached, Fidel had a feeling. When the grand prize drawing commenced and he heard his name called, his Harvest Moon luck scared up the grand finale prize. He won a brand new, red Mercedes Benz A220 worth more than $39,000. The Inland Empire man was all smiles as he posed for photos with his new luxury car.
The full moon during this time of year gets its name because for several days prior, the moonrise comes soon after sunset bringing an abundance of bright moonlight in the early evening – a welcome aide for farmers harvesting summer crops. Ramos says he likes playing at Pechanga, and likes it even more now thanks to his shiny new Mercedes which is almost as bright as the Harvest Moon he posed for photos under next to the car.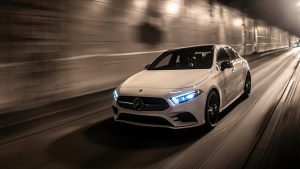 Pechanga guests will have another chance to win a sporty Mercedes A220, in addition to thousands in EasyPlay during the final September drawing on Friday, Sept. 27. Members of the Pechanga Club should mark their calendars to play their favorite slots or table games with their club card between 5 p.m. and 9 p.m. Drawings start on the hour between 6 p.m. and 9 p.m. At 6 p.m., 20 guests will score $250 in EasyPlay each. Twenty people at 7 p.m. will be awarded $500 each in EasyPlay. The 8 p.m. drawing hands out $750 in EasyPlay to 20 guests and for the finale, one lucky player will be selected at 9 p.m. to drive home the new luxury Mercedes.