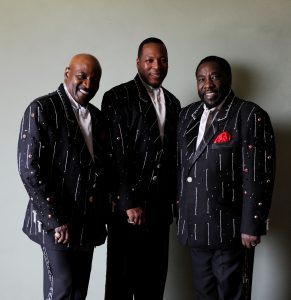 TEMECULA, Calif. – (September 19, 2019) – Sway to the electrifying sounds of the O'Jays, a close knit trio for more than 50 years. R&B, soul, disco, and pop – they sing it all. Get your groove on Saturday, November 16, at 8 p.m. inside the Pechanga Theater at Pechanga Resort Casino. Currently on sale, tickets start at $69 and can be purchased at the Pechanga Box Office, by calling (888) 810-8871 or online at Pechanga.com/entertain.
The O'Jays are touring history, a connection to an era and a sound that formed the soundtrack for the lives of several generations. The O'Jays are still hitting the road with the same electrifying energy they've had for over 50 years.
The O'Jays were inducted into the Rock & Roll Hall of Fame in 2005. They were inducted into the Vocal Group Hall of Fame in 2005 and honored with BET's Life Time Achievement Award in 2009. In 2013, they were inducted into The Official R&B Music Hall of Fame. Today, the songs of The O'Jays are still used in many movies, commercials and TV shows. "For The Love of Money" continues to be the theme song for "The Apprentice."
Eddie Levert Sr., Walter Williams Sr. and Eric Nolan Grant, who joined the group in 1995, continue to thrill fans today. Throughout their career The O'Jays have achieved 10 Gold albums, 9 Platinum albums and 10 #1 hits.