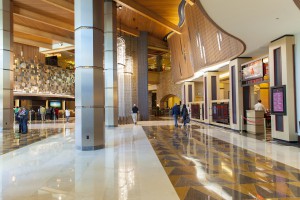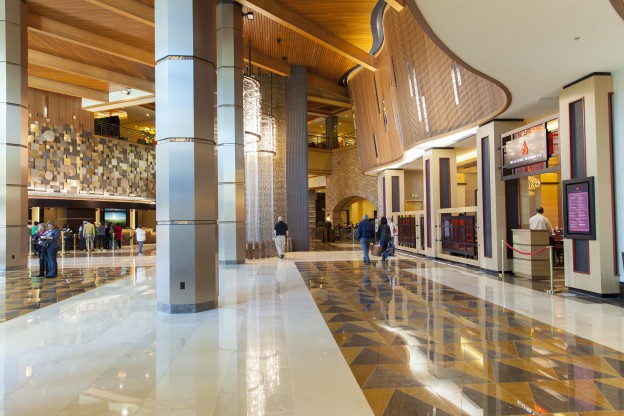 TEMECULA, Calif. – (January 8, 2014) – Just in time for 2014, Pechanga Resort & Casino, the largest resort/casino in the state, has officially unveiled its major multimillion dollar renovation of its 22,000 square foot hotel lobby, two restaurants and the addition of two new dining outlets. Pechanga Resort & Casino's contractors and more than 350 construction workers completed the entire project just before the end of 2013.
See Timelapse Video of Pechanga Renovation

Economist Dr. Manfred Keil estimates the major renovation of the 25,000 square feet inside the Pechanga Resort & Casino results in an economic impact of approximately $20,000,000. The economic impact is based on purchases and salaries and wages for more than 350 construction workers. The renovation is also expected to create another 90 permanent positions within the resort.
"We set out to renew and transform the lobby and restaurants into a focal point for guests to come into our grand entrance and say, 'wow,'" says Patrick Murphy, Pechanga Development Corporation President. "Judging by the thousands of guests who have already come in and taken photos in the new space, we hope we have achieved that objective." We are very proud of this new elegant, timeless renovation."
With an economic impact to the region into the millions of dollars already in place, Ken Westmyer, Chairman of the Temecula Valley Convention and Visitors Bureau, says he expects another infusion of tourism dollars to positively affect the rest of the region, thanks to the resort's renovation completion.
"When a company as committed as Pechanga to giving visitors an experience they remember and come back for time and time again does something on as grand a scale as a multi-million dollar remodel, it has a nearly immediate effect on many other visitor-based businesses – wineries, hotels, restaurants, shops and more."
Temecula Convention and Visitors Bureau statistics show travel spending in 2012 figured in at $625.3 million pumped directly into the local economy, much of it fueled by visitors to the resort-casino. The stats also show the region having 6,580 travel-spending supported jobs last year.
Pechanga put another 100 people into permanent positions as a result of its grand renovation. New positions include cooks, baristas, bakers, servers, bussers, managers, maintenance technicians and more.
Pechanga Resort & Casino's massive undertaking started September 3, 2013 and took just four months to complete.
Designers envisioned and Pechanga utilized the highest level of finishes and quality materials – rich mahogany, brushed brass, espresso-finished wood cabinetry and more. In place of the slate stamped concrete floor gleams 20,000 square feet of fresh light tan Italian marble. Durable, high end panel flooring lays inside Blazing Noodles and Blends Coffee & Wine Bar adding complements to the bright, popping colors of the two outlets. In addition to the Four Diamond guest service of the front desk staff, those checking in and out of the hotel will also see two 84-inch 4K Ultra high definition flat panel TV screens. These monitors require special equipment just to run high enough quality video for them. Manufacturers of the equipment say no other resort currently utilizes this kind of technology.
Resort officials also paid special attention to employ ecologically friendly practices wherever possible through the renovation. The old hotel lobby stamped concrete flooring was turned over to waste haulers for recycling. Responsibly sourced marble was put in its place. Many of the materials from lobby furnishings were sent to the resort's in-house cabinet and upholstery shops to be repurposed and applied in other areas. Water used in the "rain curtain" water feature recirculates. The ceiling in the new Sundry shop was fabricated from recycled aluminum.
Honoring the environment and nature is a deeply important value for our Tribe," says Murphy, "and this major renovation was undertaken with environmental responsiveness."
Pechanga Resort & Casino Renovation – By the Numbers:
Construction Man Hours: 30,000
Construction Days: 81
Number of Contracted Construction Workers: 350
New Employees Hired as Result of Renovation: Nearly 100
Square Footage of Renovation: 25,000
Number of New/Changed Menu Items: 93
Additional Seating Inside Blazing Noodles and Umi: 27
Technology: Two 4K Ultra HD Flat Panel Screens, Free WiFi, Device Charging in Blends