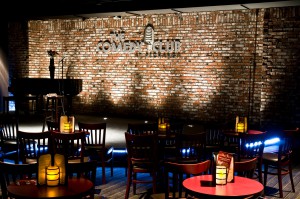 TEMECULA, Calif. – (Dec. 5, 2013) – Fans of standup comedy can get their fill starting this month as comics take the stage inside the Pechanga Comedy Club. Following a brief interlude this fall, top-name touring funny men and women are scheduled to appear under the stage lights in the popular 300-seat club. Guests can get ready to laugh starting Friday, December 13. Tickets are now priced lower at a competitive $15. The curtain goes up at 7:30p.m. and 9:30p.m. on Fridays and Saturdays, and the venue is open to everyone age 21 and older. Upcoming comedians starring in the Comedy Club include Monique Marvez featured on the "Bad Girls of Comedy" special presented by Snoop Dogg and original Latin Diva of Comedy, Chazz the Magician performing zany comedy and magic, and more.
"Pechanga is always striving to provide our guests with the best entertainment experience in Southern California," said Rudy Prieto, Pechanga Resort & Casino General Manager. "We tested karaoke briefly in November and it was well received, however, found it just did not fit with the venue."
The Pechanga Comedy Club has hosted top name comedians such as Harland Williams (Half Baked, Dumb & Dumber), D.L. Hughley (Studio 60 on the Sunset Strip, Soul Plane) and one of the Original Kings of Comedy), Loni Love (The Talk TV show) and more. Comedy fans can look forward to more top touring laugh meisters to headline the venue. Tickets may be purchased in person at the Pechanga Box Office, via telephone at (877) 711-2WIN or online at www.Pechanga.com/Entertianment.
Coming up at the Pechanga Comedy Club:
• December 13 & 14 – Monique Marvez
• December 21 – CHAZZ the Magician
• December 27 & 28 – Honest John
• January 3 & 4 – Dave Burleigh
Other upcoming events at Pechanga Resort & Casino include:
• December 6 – Mannheim Steamroller Christmas with Chip Davis
• December 8 – Merle Haggard
• December 12 – Willie Nelson & Friends
• January 10 & 11 – The Fab Four
• January 25 – Styx
• February 1 – Battle of the Badges
• February 14 & 15 – Engelbert Humberdinck
• March 30 – Bridal Expo at Pechanga
• April 18 – Chocolate Decadence
• April 19 – Pechanga Wine Festival