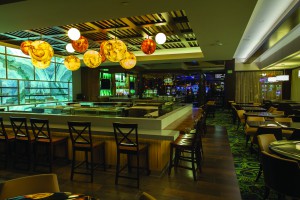 TEMECULA, Calif. – (Jan. 8, 2014) – As part of Pechanga Resort & Casino's multimillion dollar renovation through the fall and winter of 2013, Umi Sushi & Oyster Bar welcomes guests into its inviting ambiance filled with inventive seafood selections married with a whimsical South American flair. Umi Sushi & Oyster Bar opened its doors to the public on Monday, December 30, just in time for the New Year's Eve and New Year's Day rush of tens of thousands of visitors to Pechanga Resort & Casino. Instead of the dark and secluded-looking Seafood Grotto, which it replaced, guests are treated to a sparkling, full cocktail bar as they pass the hostess station. Further into the restaurant lies the three-sided, rectangular sushi bar with live wood and iridescent marble finishes. Comfortable booth and table seating also awaits couples and groups. Umi Sushi & Oyster Bar is open nightly for dinner at 5:00p.m. For more information about Umi Sushi & Oyster Bar, Pechanga's recent major restaurant and hotel renovation, or on the resort in general, visit www.Pechanga.com or call (877) 711-2946.
"My staff and I are so excited and very happy for what this restaurant [Umi] has become," says chef de cuisine of Umi Sushi & Oyster Bar, Damian Stanley. "This is a kind of establishment people would find in downtown Los Angeles, in a big city, and the menu reflects that."
More photos here.
In coming up with the menu, Chef Stanley and the food and beverage team opted to make a big departure from the dishes offered in the restaurant's previous iteration. "We knew the general direction we wanted to take the new menu, but it was still important for us to research the field. We visited more restaurants than you can count up and down the west coast, if nothing else for validation that our research and ideas were on track," says the Umi chef.
He calls the restaurant's selection of sushi, sashimi, hand rolls, cut rolls, raw bar, small plates (appetizers) and big plates (entrees) current, cutting-edge and comforting. Items such as the clam chowder served in a sourdough bread bowl like on the piers in San Francisco, and the gumbo and jambalaya he refers to as comforting. Of the moment dishes include a Japanese-South American fusion such as the Seared Miso Anticuchos Chilean Sea Bass with Peruvian Corn and Soy Glaze, or the Octopus a la Planch with Quinoa Salad, Confit Fingerling Potatoes, Tomato Marmalade and Chimichurri Drizzle. Cutting-edge menu items are the Bone Marrow Lobster with Pear, Tatsoi Salad, Celery Root Skordalia and Black Truffle Vinaigrette and the seemingly unassuming Salmon, served with Panela Glaze, Tomatillo Quinoa and a Citrus-Olive Compote.
Interior designers of Cleo Designs in Las Vegas, Nev. say their inspiration for creating the look of Umi Sushi & Oyster Bar consisted of jewels and sunken, dazzling glass from the sea. The inspiration resonates in the bar-to-ceiling, light green, opaque and illuminated glass walls behind the cocktail and sushi bars. The only thing separating the restaurant from the walkway through to the Pechanga hotel lobby are floor to ceiling metal arms of colored crystal jewels and a barely see through mesh curtain, another call-out to the designers' creative motivation.
Umi Sushi & Oyster Bar is one of two brand new restaurant offerings completed as part of Pechanga Resort & Casino's massive renovation. The other dining outlet is Blends Coffee & Wine Bar serving coffees, teas, pastries, fresh fruit and more in the mornings, plus wines by the glass in the evenings. Blends guests can also jump on free WiFi, charge their devices or just relax in the comfortable seating. The Pechanga Café and Blazing Noodles restaurants were also completely renovated as part of the late 2013 project.