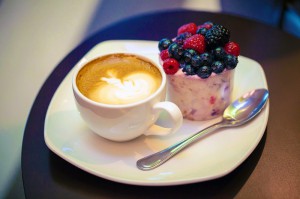 TEMECULA, Calif. – (Jan. 30, 2014) – Pechanga Resort & Casino, the state's largest resort and casino, has just opened the final piece of its grand entry and restaurant renovation and construction. Blends Coffee & Wine Bar melds the appeal of fresh-roasted, gourmet coffees and teas with the knowledge that products have been responsibly sourced and produced. On opening day, hundreds of people made their way into the new dining outlet eager to see what had been going on behind the glass doors for months. Once inside the earth-toned coffee house, guests are treated to a thoughtfully planned menu that features a Brew Bar (individually brewed cups of gourmet coffee to order), espresso beverages including Cappuccino, Lattes, Mochas, and Frozen Blended coffee drinks. The spacious restaurant with floor to ceiling windows (unusual in a casino setting) also offers guests an array of specialty sandwiches, Italian piattatas, paninis, salads, as well as breakfast pastries and desserts, freshly baked by the in-house Pechanga pastry team. Wines by the glass and by the bottle are also served. WiFi and device charging come complimentary. Blends is open every day from 7:00a.m. to 11:00p.m. Sunday through Thursday and from 7:00a.m. to 2:00a.m. Friday and Saturday. For more information, click here or call (877) 711-2WIN.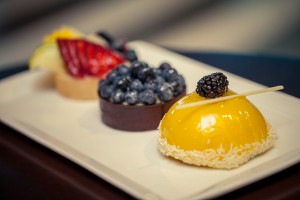 Blends Coffee & Wine Bar is the resort's 11th dining outlet and takes the space once occupied by a hotel retail store.
"This outlet is a wonderful amenity for our hotel guests, as well as every single one of our other patrons," says Rudy Prieto, Pechanga Resort & Casino general manager. "Blends offers a comfortable spot to get coffee, get online, and depending on your mood and the time of day, either wind up or wind down for the day."
The coffee served in Blends Coffee & Wine Bar is procured from a local roaster in San Diego, Calif. Beans are roasted one day before being sent a on a short drive to Pechanga Resort & Casino. As Blends serves as a focal point for gourmet coffee and tea for the resort and for the region, it was important to Pechanga management that coffee served to guests be organic and sustainable. That means the coffee bean harvesting process is allowed to go on indefinitely. The coffees served are 100-percent organic. This helps maintain health of the land on which the beans are grown, and the health and well-being of the famers. The roaster, Café Virtuoso, has also been fair-trade certified, an important distinction they say, and Pechanga leadership recognizes, ensures appropriate compensation for the people whose lands the coffee from. According to InvestorGuide.com, coffee is the 2nd largest traded commodity in the world followed behind oil.
Pechanga Resort & Casino's multimillion dollar renovation that began in early September 2013 was completed with the opening of Blends Coffee & Wine Bar. The renovation and new dining outlets added 90 new jobs to the resort, as well as 350 contract construction jobs, with a total estimated economic benefit to area of $20 million, according to economist
Dr. Manfred Keil.