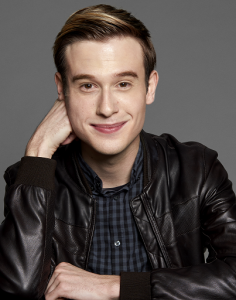 TEMECULA, Calif. – (August 23, 2019) –  What do Eva Longoria, Ellen DeGeneres, Kris Jenner, MelB, and Lucy Hale have in common? Tyler Henry. "The Hollywood Medium" continues his Life Lessons tour at Pechanga Resort Casino on Sunday, October 13, at 7:30 p.m. inside the Pechanga Theater. Currently on sale, tickets start at $59 and can be purchased at the Pechanga Box Office, by calling (888) 810-8871 or online at Pechanga.com/entertain.
During the show, audiences will learn about Tyler's unique gift for speaking to the dead and predicting people's futures. Tyler's interactive show includes Live Audience Readings and audience Q&A.
Tyler began receiving intuitive mental images when he was only 10 years old with the foretelling of his grandmother's death. As he continued cultivating his gift, sometimes even by "reading" his classmates, word began to spread around his small California hometown. Now, Tyler has quickly become one of the most sought-after clairvoyant medium in the United States and around the world. Through his show, Hollywood Medium with Tyler Henry on E!, Tyler will demonstrate how he uses his unique gift of communicating with the other side to bring comfort, closure and hope to those seeking it. Tyler's goal has always been to aid in the grief process and provide validation and closure through his one-on-one private readings, his TV show, his book, and now his live shows.
Tyler added 'best-selling author' to his impressive resume when his first book was released in 2016, Between Two Worlds, a memoir. After a series of life-changing events, including a near-death experience, Tyler recognized that his passion, calling and life purpose was to bring clarity and closure to those he was privileged to read.