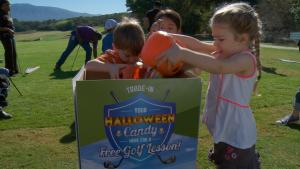 TEMECULA, Calif. – (August 27, 2019) – Journey at Pechanga golf course in Temecula brings back Candy for Golf, the program in which kids get free golf lessons for turning in their hard-earned Halloween candy. This November, Pechanga Resort Casino offers moms and dads an easy and stress-free way for kids to part with their hard-earned loot. Each child who brings in a bucket or bag of candy to the Journey at Pechanga Pro Shop between Halloween and Sunday, November 17 will receive a free golf lesson valued at $40. Donations go to Operation Gratitude which makes and sends care packages to U.S. troops stationed overseas and at bases around the country.
"Candy for Golf has become one of my favorite events each year. Giving children and teens the opportunity to discover their passion for golf while teaching healthy eating habits and supporting our veterans and troops is a hole-in-one for me," said PGA Golf Professional and Journey Instructor Randy Chang. "Being able to apply my passion for the sport of golf while simultaneously supporting our U.S. troops and veterans is an incredible gift and one that continues to grow each year."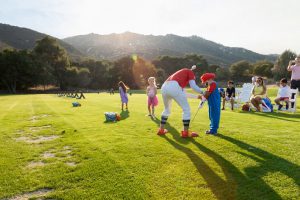 Candy donors ages three through 18 years old may sign up to participate in one free lesson on Sunday, November 3, 10 or 17. Lessons take place at Journey at Pechanga golf course from 1 p.m. to 2 p.m.
Kids receive instruction from PGA coach Randy Chang and his team of PGA certified instructors. Each class consists of a warm-up period, golf swing mechanics and putting or chipping. Children receive time outdoors and introduction to a sport they may want to continue. Parents get the satisfaction of not having pounds sweets hanging around the house for months following Halloween.
Candy can be dropped off at the Journey at Pechanga Pro Shop between Halloween and Sunday, November 17 before 1 p.m. for a child to be eligible for a free golf lesson.
This is Journey at Pechanga's fourth year hosting Candy for Golf. More than 125 pounds of candy to date has been collected and shared with our country's service men and women thanks to the initiative.
For more information, visit Pechanga.com/indulge/journey. To reach the Journey at Pechanga Pro Shop, call (951) 770-8210.