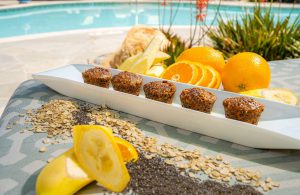 Looking for a great way to forget about the tempting office holiday cookies? Have some of Spa Pechanga's Chia-Oatmeal mini muffins on hand. Made fresh every day for Spa Pechanga guests by the in-house bakery team at the resort-casino, these mini muffins come packed with nutrition. They're moist, sweet, and leave you feeling full and satisfied a lot longer than some old Halloween candy!
Spa Pechanga Chia Oatmeal Mini Muffins (GF/V/SF)
Ingredients:
4 cups                                  Gluten free flour
1 & ½ cups + 2 Tbsp          oatmeal
¾ cup                                  mashed banana puree
2 & ½ tsp                            vanilla bean paste
1 tsp                                      cinnamon
½ tsp                                    ginger powder
1/4 cup                                 chia seeds
½ cup                                   coconut oil – melted
¾ cup                                   soy milk (almond, oat or other non-dairy milk may be substituted)
1/3 cup                                 flaxseed flour
1 & 2/3 cup                          sugar substitute such as stevia, agave
1 & ½ tsp                              salt
1 & 1/3 tsp                            baking soda
2 & ¼ tsp                             baking powder
1 ea                                       orange zest of one medium orange
Directions:
Preheat oven to 350 Degrees F.
Combine banana puree, vanilla bean, coconut oil, soy milk in a medium size bowl. Set aside.
Combine all the dry ingredients in a medium size mixing bowl. Using a paddle attachment, mix for about 1 minute. No stand mixer? Not to worry. Combine dry ingredients and mix well by hand.
Add in the liquid mixture to the dry mixture and continue to mix for 3 minutes, until well combined. Let the batter sit for about an hour at room temperature to allow ingredients to well incorporate and allow flavors to unfold. Cover if necessary.
Grease a mini muffin pan with cooking spray. Fill the pan with the batter and bake for about 10 minutes or until the muffins begin to turn light brown.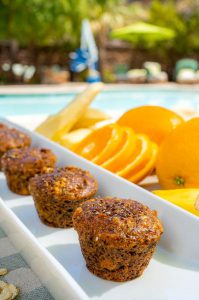 Chia seeds were widely consumed mixed with other foods by Native peoples throughout the southwestern parts of the United States. Ancestors knew the seeds acted as tiny nutrition powerhouses. They are rich in the daily value of vitamins and minerals.