TEMECULA, Calif. – (September, 2022) – With football season in the air, fans need look no further than Pechanga Resort Casino to celebrate every big game. Guests will be able to find everything they need for a perfect day of watching gridiron action at Kelsey's restaurant, an upscale American pub. Dozens of giant flatscreen TV's, beers on tap, and a fan-favorite menu create the best combo no matter which team you're rooting on. Football fanatics can also look forward to winning NFL gear and other great prizes when ordering new specials during Monday Night Football.
Kelsey's, known for its barbecue menu, is carving out specials for Monday night football. Order up sliders made with aged cheddar and caramelized onions served on a Hawaiian roll or score big with an Octoberfest inspired sausage platter, with assorted sausages, pretzels, and mustards for $19. When guests need to refuel, the loaded chicken nachos or pulled pork sandwich will keep the energy up for every big play. Fans can also ch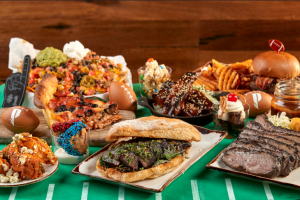 oose between five new pizzas, including the truffle squash or tri-tip cheese steak.
To top off the new Monday night specials, Kelsey's also introduces three brand new cocktails perfect to split with a friend. These new shareable drinks are served up in a chilled pitcher for $30. Guests that are looking for a spicy spin on a classic can choose the Mango Margarita Pitcher, made with Cazadores, Triple Sec, lime juice and mango puree, and topped off a chamoy and Tajín rim. Those looking for a tarte tailgate favorite can enjoy the Tailgate Lemonade, made with Jack Daniels, Triple Sec, lemon juice, Sprite, and topped with cherries and lemons. Made with Bacardi White, orange and pineapple juice, Sprite, and fresh muddled berries, the Gameday Punch will keep guests reaching for second pour.
To make gameday even more satisfying, Kelsey's offers $56 all-you-can-eat Sunday brunch from 9 a.m. through 4 p.m. For those that prefer a lighter fare, try the choice selections of romaine heart or the new hummus board, with carrot siracha, edamame, and pita chips to name a few. For guests looking to go the distance, load up on Duroc pork loin, carved to order with bacon jam, braised shallots, and crispy onions. Tradionalists can enjoy spice-rubbed tri-tip, served with barbeque au jus and house-made chimichurri.
To make sure every fan can enjoy football season, Kelsey's is now open Mondays and Thursdays from 4 p.m. to 10 p.m.; – Friday at 4 p.m. until 11 p.m.; Saturdays start at 11 a.m. to 11 p.m.; and Sundays from 9 a.m. through 10 p.m. These new hours will coincide with the first game of the season on Thursday, September 8.