TEMECULA, Calif. – (August, 2022) – With the sun setting on Summer break, many students in the Inland Empire region found themselves back in class starting Monday, August 15. Thanks to the efforts of Murrieta Salvation Army branch and local businesses including Pechanga Resort Casino, the 24th Annual ChildSpree program provided two hundred and fifty deserving kids with new clothes, shoes, backpacks, and more.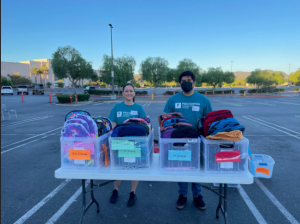 At 6 a.m. on Saturday, August 6, Pechanga Team Members filled the parking lot of the Temecula JCPenney. They handed out $125 JCPenney gift cards to the kids ages 5 through 18. Money in hand, the kids walked alongside their moms or dads to pick new clothes and shoes. With $125 gift cards provided in part by a donation of $7,000 from Pechanga Resort Casino, kids could shop before the store opened and pick out items that fit them and their style.
After leaving the department store with their new threads, the children then made their way over to pick a backpack of their choice filled with back-to-school supplies as well as three books to bring home, courtesy of the Ella Fitzgerald Charitable Foundation. Each family also received a small bag of groceries from the Salvation Army food pantry and a $25 grocery gift card.
Children were selected from the four local school districts of Temecula, Murrieta, Menefee, Lake Elsinore, children that work with Salvation Army who need assistance, and children from domestic violence shelters.
Learning and behavior experts say wearing newer and good-fitting cloths can make all the difference for kids. Not only do they feel better about themselves, they feel more confident and comfortable and often perform better in school.