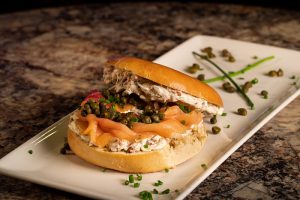 TEMECULA, Calif. – (July 22, 2019) – Following several weeks of construction upgrades, the Temptations Food Walk at Pechanga Resort Casino now offers more restaurant space, an enhanced look, more ways to enjoy foods from around the world, and some really fun soda fountains. Upgrades were cooked up as Pechanga's management wanted to serve guests elevated experiences and a wider variety of fast-casual, international dining options at the six-station Temptations Food Walk. The resort-casino's food and beverage management and chefs considered concepts and designs.
"Our changes made a few of the walk-up restaurants larger, and we enhanced not only how they look, but also the selection and caliber of foods we offer to our guests," said Pam Toscano, Vice President of Food & Beverage at Pechanga Resort Casino. "We opted to make some of the menus simpler, and to offer more contemporary items. Guests are going to love the new soda fountains, too."
Stepping foot into Temptations Food Walk, one may not at first may not realize food choices from around the world await him or her. A closer look reveals the food walk features gourmet coffees, teas and desserts, fried chicken with all the fixings, Italian, Mexicali, American and Asian favorites.
Pechanga construction crews started the food walk enhancements by building an additional walk-up food outlet space. This made the eatery more visible from the nearby slot machines. It also allowed Chef Marlene Moore, head chef of Temptations Food Walk, more room at Caffé Cocoa to keep popular items such as gourmet coffees, teas, smoothies, pastries and gelato, but also add additional dessert items such as freshly made French macarons, Italian canolis, tiramisu cake, gourmet cupcakes, as well as several sugar-free options including cheesecake and chocolate cake. Freshly baked pastries entice diners all morning long, too. Chef Marlene continues to scoop homemade gelato onto homemade cookies to make her sought-after, open-faced ice cream sandwiches.
Walking in a clockwise direction from Caffé Cocoa, guests next encounter Pechanga Fried Chicken. The expanded outlet now rotisseries whole chickens and packages them up for guests to enjoy right out of the heat-controlled bag, and sautés new side dishes such as green and baked beans. That's in addition to Pechanga Fried Chicken's namesake – varieties of fried chicken – mashed potatoes, fresh biscuits and mac & cheese.
Next up comes Pronto Italiano. Here Chef Marlene added gourmet Italian sandwiches such as meatball provolone, chicken parmesan, caprese and delectable, artisan flatbreads along with the already popular, choose-and-go giant pizza slices, calzones and pastas.
Rounding the circle, guests can take a quick trip south of the boarder when they stop at Agave within Temptations Food Court. Guests now select their choice of meat or protein and decide whether they want the fillings in a bowl, taco, burrito, nachos or taco salad. Side dishes include homemade quesadillas, bean and cheese burritos, and more. Diners can also take as much of the freshly made salsas they need for the perfect addition to their Agave meal.
American Classics already grilled up favorites such as hamburgers, cheeseburgers and savory fries. Now the grill space gets shared with alternative burgers – turkey, chicken and veggie. Gourmet hot dogs, loaded fries and Philly cheese steaks make much-anticipated appearances on the new menu.
Last up on the international trek around Temptations Food Walk comes Little Wok. Dishes served Chinese diner-style, guests choose one, two or three entrees with a side of chow mein or fried rice. À la carte entrees may also be selected. Or diners can opt for any of four traditional Banh Mi sandwiches.
The Temptations Food Walk also now tantalizes soft drink lovers with four new Coca-Cola Freestyle soda fountains. The touchscreen-operated dispensers puts soft drink selections and combinations at the tap of one's fingers. Coca-Cola says the dispenser uses "micro-dosing" technology to deliver nearly 200 drink options – including 117 low/no-calorie beverages and more than 100 varieties.
Temptations Food Walk attracts approximately 2,200 guests every day, and 4,500 on weekends. Caffé Cocoa and American Classics are open 24-hours. All other food walk outlets are open 11 a.m. to 10 p.m. Sunday through Thursday, and 11 a.m. to 3 a.m. Friday and Saturday.