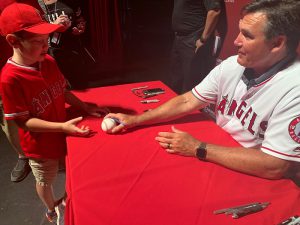 TEMECULA, Calif. – (July 20, 2019) – On Friday night, July 19, more than 700 Angel Baseball fans got the opportunity to meet the "King Fish," Tim Salmon, in person. One of them was seven-year-old Sam Petersen from Canyon Hills. Clad in an Angel Baseball cap and red jersey, he waited patiently with his dad for his row to be called to meet the former Major League Baseball outfielder and designated hitter.
"I've been playing baseball since I was four and I really like it," said Sam. "I watch all the games and I keep score of all of them in scorebooks. There's also a shelf in my room with signed baseballs from Justin Anderson, Félix Ricardo Peña and Martín Maldonado (formerly with the team). I'm going to put the baseball and card Tim Salmon signs there, too."
When Sam got up on stage, the King Fish said, "Hi, buddy," and gave him a high five. Sam looked awestruck. So did hundreds of the other fans gathered to meet the man nicknamed "Mr. Angel" by broadcasters and fans. "You are my number one player," said one of the fans who had Salmon sign a baseball he had signed for her once before when she was a little girl.
"When I first got here and saw all the people waiting to meet me, I thought, 'Wow, there are a lot of people who remember me.' I love interacting with the fans," he said as he signed memorabilia at Pechanga Resort Casino. "The older you get, it's great they still remember you. It's great to see them having a good time and so nice to see so many Angel fans here in the Inland area."
Tim Salmon, nicknamed "King Fish" and "Mr. Angel" by fans and broadcasters, made his MLB debut with the Angels in 1992, the same year he won the Baseball America Minor League Player of the Year Award. The following year he won the 1993 American League Rookie of the Year Award. Over his 14-year career, Tim led the Angels to several successful seasons, highlighted by a World Series Championship in 2002.  He ended his baseball career in 2006 as the Angels all-time leader in home runs (299) and walks (965), and second all-time at the Angels in RBI's (1,016) and runs scored (965). In 2015, Tim was inducted into the Angels Baseball Hall of Fame.  He currently serves as an Analyst on Fox Sports West in addition to supporting his charity, The Tim Salmon Foundation.
As a proud sponsor of Angels Baseball, Pechanga takes great pleasure introducing Angels players to guests at its summer meet-and-greets. This is Tim Salmon's first meet-and-greet at Pechanga.