TEMECULA, Calif. – (July 18, 2019) – Some people count down the weeks and days to Shark Week™ on the Discovery Channel. For those who cannot get enough of Shark Week™, Pechanga brings more much-anticipated news. Six new slot machines named and themed around Discovery Channel's epically popular series drop anchor at Pechanga Resort Casino this July.
Discovery Shark Week™ on Everi's Empire Arena™ is uniquely designed to fully immerse the player as if they are peering through a window into an undersea world filled with lively sharks and other sea life swimming around a brightly colored coral reef. Sea life transitions seamlessly across massive 55-inch top screens while players engage with three exciting base games through touch capable 27-inch LCD bottom screens, making it impossible to miss on the gaming floor.
Players will love the heart-pounding, bank-wide bonus feature Shark Alert that creates an incredible amount of anticipation prompting them to prepare for a new adrenaline-pumping rate of play.
To commemorate the occasion, the Temecula resort and Everi, the Discovery Shark Week™ slot machine's manufacturer, chum the water with EasyPlay, Discovery Shark Week™ slot machine merchandise, and special Shark Week™ cocktails, desserts and The Cove cabana discounts.
Mark your calendars! Shark Week is coming! Dive into our newest slot machine at your own risk! 🦈#SlotMachineSunday #Pechanga #Resort #Casino #Hotel #Gamble #Play #Slot #SharkWeek #Sharks #SlotMachine #Play #Fun #Temecula #Win pic.twitter.com/Oz4SdwcKh6

— Pechanga Resort Casino (@PechangaCasino) July 14, 2019
Pechanga's Shark Week™ casino promotion starts Sunday, July 28 (the start of Shark Week on the Discovery Channel), and runs through Saturday, August 3. Guests who play the much-anticipated, $0.01 Discovery Shark Week™ base game Jaws of Steel™ slot machine located near Kelsey's restaurant at any time of the day have the chance to chomp down on their share of $4,000 in EasyPlay. Guests playing the Discovery Shark Week™ slot machine during this time may also receive Shark Week™ t-shirts while supplies last.
With frequent wilds creating big wins among nine reels and multiplier wilds during free spin, the potential for jackpots comes out from the deep and into players' hands. Shark Week Jaws of Steel™ presents progressive jackpot wins up to $10,000 when max bets are played.
"Shark Week Jaws of Steel™ is a game we've been looking forward to releasing for our Pechanga guests this summer," said Alex Rodriguez, Vice President of Slot Operations at Pechanga Resort Casino. "The theme offers tremendous recognition and we think our guests are really going to like all the graphics, as well as the fun bonus rounds."
Guests who get thirsty can navigate their way to any casino bar. There, they can stay ashore awhile and enjoy a Shark Attack cocktail for $9. A mix of tequila, lime, blue curacao and a splash of grenadine, the Shark Attack is served in a "beach sand"- rimmed glass. (It's really a delicious rim of raw cane sugar.)
Pechanga's pastry shop whips up a sweet treat for Shark Week™. The Ocean Panna Cotta is a delectable and creamy dessert that can be discovered exclusively at Blends Coffee & Wine Bar for $5.
The Shark Attack cocktail and the Ocean Panna Cotta are available Sunday, July 28 through Saturday, August 31.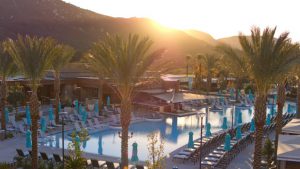 If soaking up the Southern California sun in a tropical, oasis-like environment sounds inviting, The Cove encourages you to dive in for Shark Week™ – inspired day pass specials Monday through Friday. From Monday, July 29 through August 30 (excluding August 5 and August 12), guests who shows their "shark spirit" receive a Cove day pass for $20 instead of the regular $40 price. Wear shark shorts, affix a shark fin to your back, even show off a shark tattoo if you have one. Anything that shows shark spirit will earn non-hotel guests 50-percent off entrance to The Cove. Pool staff will also give away Shark Week™ drink koozies starting July 28 while supplies last.
Pechanga's 4.5-acre pool complex offers four pools, three hot tubs, two twisty waterslides, a splash pad for the kids, 27 luxury cabanas, a walk-up restaurant, and lounge-seating food and beverage service. The Cove transports guests to fun and relaxation.
©2019 TM Discovery Communications, LLC. Shark Week and related logos are trademarks of Discovery Communications, LLC. Used under license. All rights reserved.