TEMECULA, Calif. – (November 1, 2022) – Pechanga Resort Casino honors our Veterans and current members of the United States Armed Forces November 11 – Veterans Day. The Temecula area resort/casino salutes the brave individuals with a $30 gift in Pechanga Club dollars. Those eligible can use the $30 in Pechanga Club Dollars toward great meals at any of the resort's 12 restaurants, golf, spa treatments, hotel stays, concert tickets, EasyPlay™, and gift shop purchases. Qualified guests can receive their $30 in Pechanga Club Dollars any day between Wednesday, November 9 and Friday, November 11 – Veterans Day.
This special offer maybe redeemed at the Pechanga Resort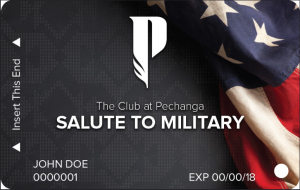 Casino Club desk across from Kelsey's . This is also where guests can pick up the special Pechanga Military Club card if they do not already have one, along with the $30 Club Dollars gift loaded onto it for them. If a military member or veteran already has a Salute to Military Club card, the $30 in Club Dollars will be awarded onto that card for him or her. Guests must be 21 years or older and must present a Military Identification Card, Veterans Identification Card, Veterans Organization Card such as VFW, American Legion, discharge papers, DD214 or Other Veterans ID to be eligible to receive the Veterans Day gift. More information may be found by visiting Pechanga.com/join.
"Native Americans have served in the armed forces at a higher rate than any other group," said Andrew Masiel, Sr., President of the Pechanga Development Corporation. "Pechanga has a deep reverence and appreciation for the sacrifices of our service members and their families, we are humbled and honored to show this small gesture of gratitude for their service."
Pechanga also provides other valuable perks for our service members throughout the year. These include:
•Earning Club Dollars 15{76326115ec5f5269a7496686450bef510a535a158f7e03f28de9580924cc320f} faster than the Silver Card tier
•5{76326115ec5f5269a7496686450bef510a535a158f7e03f28de9580924cc320f} back in Club Dollars on all resort purchases including dining, spa, entertainment and hotel rooms
•Military golf rate of $70 weekdays/$90 weekends at Journey at Pechanga
•10{76326115ec5f5269a7496686450bef510a535a158f7e03f28de9580924cc320f} off hotel room accommodations at Pechanga Resort Casino
•10{76326115ec5f5269a7496686450bef510a535a158f7e03f28de9580924cc320f} off booking rates at the Pechanga RV Resort