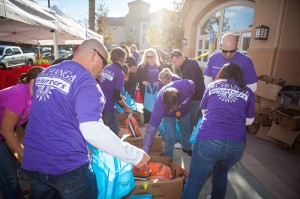 TEMECULA, Calif. – (Nov. 26, 2013) – Just in time for Thanksgiving, thousands of the less fortunate in the Inland Empire received a fresh turkey and many non-perishable fixings courtesy of Pechanga and other businesses and community organizations. Dozens of volunteers from the Temecula resort spent their morning assisting at a Murrieta, Calif. senior center where they assisted the efforts of the Temecula/Murrieta Rescue Mission. Volunteers unloaded, bagged and handed out turkeys and other food items to seniors, church groups and individuals in need this holiday. Pechanga donated 400 turkeys at the November 26 event and will be giving more than 1,500 birds over the course of the holiday season, providing nearly 25,000 meals to those who may not otherwise be able to enjoy a special home cooked dinner.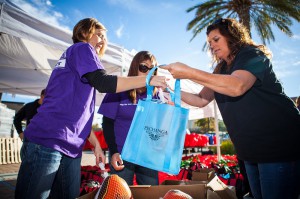 "This is a huge blessing for us and for our community," says Eric Wells of the Temecula/Murrieta Rescue Mission. "Thousands of people will be able to share a meal with family and friends, something they're not always able to do because of economic conditions."
This is the fifth year the Pechanga Development Corporation has provided turkeys for families throughout the Inland Empire. Ken Perez, Pechanga Development Corporation Secretary and donation volunteer, came out to the early-morning turkey giveaway to show his and Pechanga's support for the community as a whole. "This gives a lot of dignity to many people in the community and it's really an honor and a blessing for us to be a part of that in a small way. We are appreciative of the work the Temecula/Murrieta Rescue Mission does to provide necessities, as well as hope, to those who have fallen on hard times."
For a link to more photos from the donation event, click here.