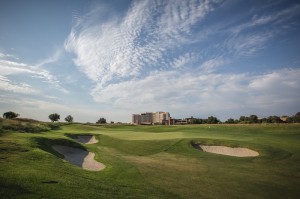 TEMECULA, Calif. — (July 20, 2015) – Journey at Pechanga, the championship 18-hole golf course on the Pechanga Resort & Casino grounds, announces it has bid adieu to the 18th hole's severe Biarritz green. Too many frustration-toned online comments and chatter overheard in the 19th hole that golfers were left scratching their heads by the green caused course management to make a sweeping and softening change. Heavy machinery and greenskeepers moved in in late May to start the process of raising and diminishing the large side to side dip in the middle of the green. They completed the project in late June which brought the Biarritz from a rigid taco shell to a smooth, slightly curved potato chip.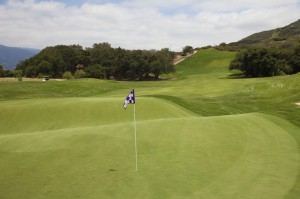 It was a big decision," says Journey at Pechanga Director of Golf. "We thought, 'do we change what architect Arthur Hills intended?' Ultimately we knew we had to listen to our guests. Before we softened the green, golfers may have been lucky to get off the green with a three or four putt. Now that it's less unforgiving, we have a phenomenal finishing hole. With two good shots, you can make birdie."
Journey at Pechanga opened in 2008 after a lengthy planning and design process by Steve Forrest, Arthur Hills and the Pechanga Tribe. With Biarritz greens being an occasional calling card of Hills, Journey's hole 18 was intended as a challenge of golfers' forethought and skill. For pros like Mallory and others who golf often, the hole didn't seem daunting. For weekend golfers and resort players who make up most of Journey's customer base, the green became a frequent topic of contentious conversation.
On Greenskeeper.org, divotnjay wrote, "hit a perfect drive ended up past the trees on the right by the cart path and then a perfect shot by the hole which was in front, hard bounce forward and now in the cavernous valley in the middle of the green. Three putt bogey, scratching my head." On Golflink.com, a user comments, "for reasons unknown this green has a huge valley cut through the middle. Only downside to the course."
"This change up makes the hole so much more fun and playable," says Mallory.
Journey staff points to the big Barritz softening allowing them up to eight possible pin placements, as opposed to only five before the reconstruction. Greenskeepers like the change because it allows pin areas to recover better from foot traffic and ball marks.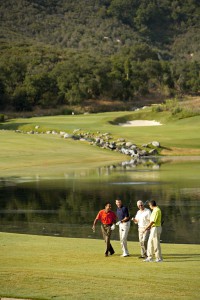 Journey at Pechanga sits below the South Temecula hillsides, carved into the native landscape steeped in tribal history. At 7,219 yards, it is rated one of the top public courses in California. Rates range from $49 to $139 with special pricing for hotel guests and locals. Journey at Pechanga is part of Pechanga Resort & Casino, the largest resort/casino in the state. For more information or to book a tee time, visit Pechanga.com or call (866) 991-7277.