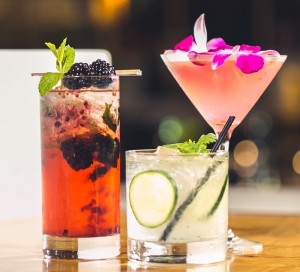 TEMECULA, Calif. — (Aug. 10, 2015) – The mixologists and chefs at Pechanga Resort & Casino mixed, muddled, tested and tasted a variety of fresh ingredient-based cocktails and inviting appetizers. They now offer eight handcrafted cocktail selections at the resort's three fine dining restaurants, the Great Oak Steakhouse, Paisano's Italian Ristorante and Umi Sushi & Oyster Bar. Guests at Umi can now also get their taste for Japanese-inspired appetizers filled with selections from a new menu available from 3:30p.m. to 5:00p.m. on Saturdays and Sundays. Items start at $4.00. The handcrafted cocktails are $9.00 each.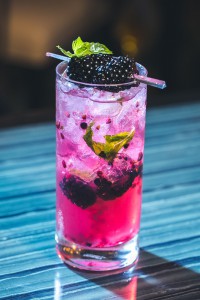 Utilizing local, fresh ingredients such as mint, blueberries, citrus fruit, jalapeños peppers and herbs, Pechanga's beverage mixologists cooked up their newest spins on classic cocktails, and created a few new ones. Whether a guest's taste leans toward the complex or the clean, mixologists' emphasis for these new offerings allows the fresh flavors and essential oils of the fruits and herbs to shine. These eight handcrafted cocktails include the Blue Velvet with fresh mint, blueberries and elderflower liqueur, the Blackberry Mojito, the Garden Mule with blueberries, cucumber and mint, Chimera Martini with blueberries and an edible orchid, the Cucumber & Cilantro, the Lemoncello Martini and the Lynchburg Lemonade with local citrus, and the Spicy Mango Margarita with mango puree and jalapeño. The Great Oak Steakhouse and Umi Sushi & Oyster Bar are open every day at 5:00p.m. Paisano's Italian Ristorante is open Wednesday through Sunday at 5:00p.m.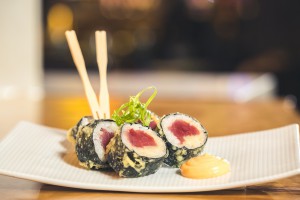 Those looking for a bite to eat before dinner time can have their cravings satisfied at Umi Sushi & Oyster Bar on the weekends in the late afternoon. From 3:30p.m. to 5:00p.m., Umi's Chef Kiyokune Ikeda puts together enticing appetizers that do not break the bank. Items such as wakame (seaweed) salad for $4, fried shishito pepper with eel sauce and edamame for $6 and tempura spicy tuna roll for $8 are a few of the selections on the special eight-dish appetizer menu.
For more information or reservations, visit Pechanga.com or call (877) 711-2946.