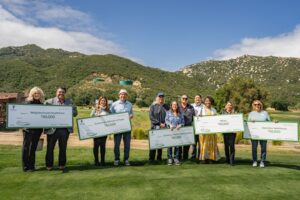 Pechanga Indian Reservation, CA, May 4, 2022– Nearly 500 golfers took to the greens at the Journey at Pechanga golf course May 2, 3 and 4 for the 24th annual Pechanga Charity Golf Classic. After the rounds wrapped and scores were counted, Pechanga proudly announced they raised over $200,000.00 for five Southern California charities. With the popularity of the tournament continuing to increase each year, a third tournament day was added this year. Pechanga is now able to raise 60-percent more funds than previous years' totals.
The five charities split the $200,000 and funds will help support programs for veterans, seniors, children and families in the community, as well as protect the health, safety and welfare of tribal children and families. These charities include the Community Mission of Hope, Neighborhood Healthcare, Operation Safehouse, Milvet, and the California Tribal Families Coalition.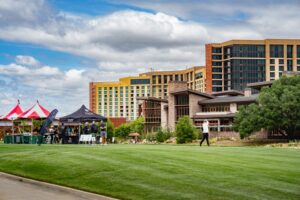 Four hundred and eighty four golfers took part in the 24th annual Pechanga Charity Golf Classic. The golfers were treated to lunch on the course, fun activities from vendors at many of the 18 holes, including a special appearance from LPGA golfer and Pechanga ambassador, Gabriella Then. The pro posted up at Journey's 17th tee box offering to drive the ball for any group who said, "yes." Most opted for the pro to get the ball up and over the ravines onto the fairway or the green on 17. All groups were treated to a photo with Gabriella, too.
In its 24th year, the tournament brings together tribal government and Indian gaming industry leaders who love spending a day on the course while helping those in need. The event has raised more than $1.8 million for a variety of essential charitable organizations throughout the Temecula Valley and around Southern California. The now three-day event has grown into one of the most popular charity golf tournaments in Southern California and has become a must-play event for hundreds of golfers.
"We love how this amazing day of golf brings together so many of our friends and colleagues from neighboring tribes and communities. The camaraderie is not just fun, but important," said Ken Perez, President of the Pechanga Development Corporation. "Knowing that everyone's participation is supporting vital services and resources that our community depends on is not only humbling, it is part of who we are as a tribe."
"The philanthropic leadership of the Pechanga Development Corporation leaves an impact on the quality of our programs and services," said Rakesh Patel, MD, Chief Executive Officer for Neighborhood Healthcare. "We believe we are Better Together and your support ensures equal care for all."
COMMUNITY MISSION OF HOPE
Community Mission of Hope (CMOH) began as a partnership with the Orange County Rescue Mission to resolve food insecurity during the recession in 2009. Starting as a feeding ministry in the parking lot of Rancho Community Church it became clear that clients needed more than just food and our services expanded to include case management. In 2013 CMOH food distribution and housing resource center was created where over 1 million pounds of food is distributed each year and over 100 individuals have been connected with permanent housing. In 2021 Hope Family Housing program launched to provide affordable housing in an environment of independent living with supportive services leading our residents towards self-sufficiency.
NEIGHBORHOOD HEALTHCARE
Community health is about more than just vaccines and checkups. It's about giving people the resources they need to live their best lives. At Neighborhood, this is our vision. A community where everyone is healthy and happy. We're with you every step of the way, with the care you need for each of life's chapters. At Neighborhood, we are Better Together. As a private, non-profit 501(C) (3) community health organization, we serve 414,995 medical, dental, and behavioral health visits from 87,099 people annually. We do this in pursuit of our mission: improve the health and happiness of the communities we serve by providing quality care to all, regardless of situation or circumstance.
OPERATION SAFEHOUSE
Operation SafeHouse provides emergency shelter, intervention and outreach services to run away, homeless or other youth in crisis. SafeHouse offers youth positive alternatives to becoming victims of the streets. Their services include an emergency shelter for ages 11-17, transitional living program, and a young adult (18-24) emergency services, a mobile app that provides anonymous counseling via text, and school behavioral health programs offered in partnership with RUHS. Programs are based in Riverside and Thousand Palms. They serve over 400 young people annually with crisis intervention, and over 10,000 through their outreach programs.
MILVET
MilVet is dedicated to connecting the community to local, low-cost and free comprehensive resources through community organizational outreach and providing philanthropic programs to enrich the lives of veterans, seniors, and families in the community. MilVet's offers military care packages, connections to community resources, facilitate veterans benefit assistance, and a youth program to teach patriotism and support of our military.
CALIFORNIA TRIBAL FAMILIES COALITION
California Tribal Families Coalition works to protect the health, safety and welfare of tribal children and families, which are inherent tribal governmental functions and are at the core of tribal sovereignty and tribal governance. Funding will support the ongoing education, research, and support to tribal leaders and representatives of the Tribal Education and Outreach Project as it relates to ICWA, threats to ICWA and family struggles in the child welfare system.