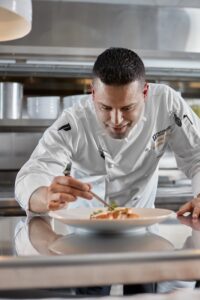 TEMECULA, Calif. – (May 3, 2023) – Pechanga Resort Casino calls on all who have ever thought about a career in culinary. Cooks, bartenders, bakers, even head chef and restaurant management positions are all available for the right candidates at Pechanga. That's why the resort/casino invites prospective applicants to their Culinary Job Fair Wednesday, May 24 between 10 a.m. and 2 p.m. Applicants will get to meet one on one with hiring managers, receive on the spot interviews, and may even be offered a job right away. Culinary job seekers can stop into the Manzanita Room on the second floor above the Pechanga Summit Events Center at any time during the job fair.
Cooks hired at Pechanga Resort Casino take home an extra $2,500 as a sign on incentive. Cook positions start at $17.50 per hour and go up to $22. Ask any of the current Pechanga culinary staff and they attest to the availability of upward career mobility at Pechanga. The resort's executive chef started as a kitchen supervisor in the Kelsey's restaurant. The current executive sous chef started his culinary journey as a busser in the Pechanga employee cafeteria.
"For someone who's watched the cooking shows and thought, 'I could do that,' you probably can if you have the passion. And there's so much room for growth in our culinary department," said Pechanga Resort Casino Executive Chef, Andre Pinto. "We would love to meet with you on May 24."
"I was a lunch lady at a Lake Elsinore school before I came to work at Pechanga as a prep cook," said Kelsey's cook Rachel Hillig. "I've been here eight years. The benefits we get are some of the best around. And I tell all the younger people who come to work here, 'you need to get yourself into that six-percent matching 401k.' This is a great place to start your career and work your way up, but you don't have to be a young person just starting out either."
One of the biggest needs necessitating the new culinary staff is Pechanga's signature Great Oak Steakhouse currently under renovation. With an estimated reopening this summer, a larger kitchen and expanded seating, the sleek, modern and inviting fine dining restaurant requires staff ready to deliver exemplary Four Diamond service.
Pechanga Team Members enjoy dozens of generous employee benefits including free meals during a shift, medical, dental and vision insurance, 401(K)-retirement programs with employer match, longevity bonus, tuition reimbursements, Team Member celebrations, incentive gift cards, on-site gym, team member discounts on food and gas, and more. Applicants 18 or older are eligible to be hired as cooks, as well as in many other positions within the food and beverage division at Pechanga.
Prospective candidates attending the career fair can upload their resumes ahead of time at the Pechanga Careers webpage – pechanga.com/careers – and also bring a few copies with them. Walk-ins are welcome. Chef Andre Pinto recommends dressing for success and wearing a winning smile. All available job positions at Pechanga Resort Casino can be found at the Pechanga Careers website.