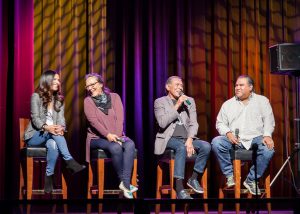 TEMECULA, Calif. (August 7, 2017) – California's American Indian & Indigenous Film Festival (CAIIFF), sponsored by the Pechanga Development Corporation, is hosting its fifth annual, three-day film festival November 2 – 4 at Pechanga Resort & Casino in Temecula, Calif. CAIIFF kicks off November's Native American Heritage Month and will feature a line-up of dozens of films, shorts and documentaries by American Indian & Indigenous filmmakers, producers, directors, and actors. It will also offer several Q&A sessions with star actors and an exclusive, invite-only reception at Pechanga's rooftop venue, the Eagle's Nest, to honor those making a significant impact in native and indigenous arts.
All films, shorts and documentaries will cover topics about Native American lives, interests and issues, as well as tribal culture, language revitalization, and the preservation of natural and cultural resources. Tickets are as follows:
All tickets are $15 except for youth track and Saturday matinee, which are free.
Thursday screening: $15
Friday 1491's performance: $15
Saturday youth program: FREE
Saturday matinee shorts program: FREE
Saturday closing night screening: $15
Saturday night VIP reception: Invite only
All tickets include movies, panels, intimate conversations with filmmakers and actors, free parking, snacks, non-alcoholic beverages, and a red carpet experience with the opportunity to have your photo taken with the best of AIAN filmmaking talent.
The 1491's are scheduled to dish out laughs at the Pechanga Theater Friday, November 3. The Native American sketch comedy group originally came together to create funny videos on YouTube. Now, they tour around the world at sold out performances as well as appearances on "The Daily Show with Jon Stewart" and "TEDx Talks." Guests can also look forward to the screening of Rumble: The Indians Who Rocked the World, a feature film scheduled to show on Thursday, Opening Night, November 2. Rumble will be released in theaters this July and is a powerful documentary about how Native Americans influenced Rock 'n Roll.
A complete list of this year's screenings and Q&A sessions will be available in the near future.
Last year, the festival honored acclaimed actor and musician Wes Studi, who has starred in several award-winning films, including Avatar, Geronimo, Last of the Mohicans, and Dances with Wolves in 1990. Also in attendance at the film festival were stars Q'orianka Kilcher and director Chris Eyre.
The VIP reception is not open to the public, however credentialed media are welcome to cover the event. Members of the media should contact Jessica Newton at 951-526-1867 or jnewton@pechanga.com to cover the screenings, Q&A's or the VIP reception.
To get a sneak peak of the 2017 CAIIFF, check out the demo reels from past programs: www.caiiff.com/past-programs.