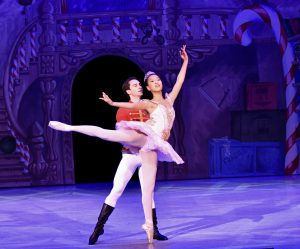 TEMECULA, Calif. – (Nov. 18, 2019) – There is no more charming tradition in the holiday season than attending the classic Nutcracker Ballet. Guests can get whisked away into the fantasy of a holiday classic when the Nutcracker comes to the Pechanga Theater at Pechanga Resort Casino on Saturday, December 7, at 2 p.m. and Sunday, December 8, at 4 p.m. Currently on sale, tickets start at $35 and can be purchased at the Pechanga Box Office, by calling (888) 810-8871 or online at Pechanga.com/entertain.
Eighteen years of delighting audiences with the most traditional, Russian version of the Nutcracker and under the direction of Svetlana Waisman, the Temecula Ballet (also known as Inland Valley Classical Ballet Theatre) presents the longest running Nutcracker ballet in the valley.
Influenced by Svetlana Waisman's rich Russian heritage, Temecula Ballet's Nutcracker follows the true tradition of the Christmas classic that has brought joy and unforgettable memories to many generations for over a century. Nutcracker is one of the most beloved and most attended ballet in the world. The spectacular sets, stunning costumes, and superb choreography will transport guests into a magical world of joy and wonder that will leave them counting down the days until the next holiday season.
Bring the whole family and watch Tchaikovsky's brilliant music come to life on stage in this dazzling presentation of the Nutcracker. The well-known score has become synonymous with the Christmas season and now guests can enjoy it as it was written to be experienced! It promises to be a feast for the audiences' eyes and ears, and a charming Christmas memory for the entire family.
When asked, "What does the Nutcracker mean to you?" Artistic director Svetlana Waisman replies: "I simply love Nutcracker! Tchaikovsky music is my inspiration. This ballet started with a thought many years ago when Tchaikovsky first conceived it and it turned into timeless score that inspires many until this day. What I love about it is that there is no limit to this process of creation. Every year, staging Nutcracker brings more and more ingenuity. The art of ballet is the truest soul expression through movement, but music makes it happen!"
"Nutcracker is iconic. Every role is beautiful and unique and allows you to experience a new world. I do not remember my life without Nutcracker," said David Waisman, Nutcracker Prince. "I started as a little party boy when I was only four years old, then Fritz and the Nutcracker doll. I greatly appreciate the opportunity to dance as the Prince in this year's production of the Nutcracker."
"Performing the Nutcracker means experiencing magic in its purest form. Not just because of the fantasy but because it's a tale for people of all ages," said Julian Mini, Nutcracker doll. "It also symbolizes diversity and more importantly, love."