It has been a stressful couple of months for us. My girlfriends knew that I needed a little "me" time and planned a relaxing weekend getaway at Pechanga Resort Casino in Temecula for pure relaxation and a chance to just hang out and let the responsibilities fade away  for a few days. AS one of California's biggest and best resort and casinos, they feature everything from entertainment, culinary delights, wellness at the spa, and luxurious accommodations.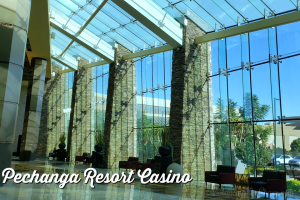 We were invited to explore Pechanga Resort casino last weekend to experience all the property has to offer families, couples, and as a staycation destination.
Accommodations:
Start off your stay with luxurious accommodations in one of our spacious rooms or suites designed with your comfort in mind. Pechanga Resort Casino offers two towers of gorgeous room options. From a single bedroom retreat to a fabulous corner suite, rooms include amenities such as pillow top mattresses, a fully stocked mini bar, high definition flat screen televisions, Molton Brown bath products, and complimentary valet parking.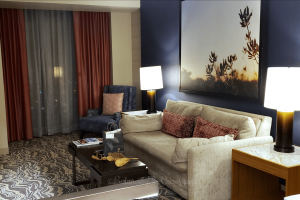 We had the opportunity to share a Junior Suite that included two queen beds and a 55″ flat screen TV, in 550 square feet to spread out. In the living room, there was a pull out sofa bed, a desk, refreshment counter with stocked snacks and drinks, a refrigerator and a 65″ flat screen in the living room. The tower suite bathrooms feature quartz counter tops, indigenous and locally created artwork, halo-lit vanity mirrors, in-shower benches, and hand-held and rain dome shower heads.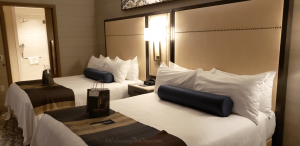 Walking through the resort, I loved the clean lines and artwork on display from local people. The lounge areas were comfortable and inviting, a great place to sit and relax while listening to the dueling pianos at the Lobby Bar & Grill.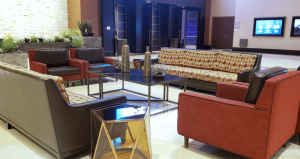 Spa Pechanga:
For the ultimate relaxing experience, you must visit Spa Pechanga. It is a tranquil 25,000 square foot sanctuary of luxury, wellness and serenity designed for year-round rejuvenation of the mind, body and spirit. They offer luxurious treatment rooms and relaxation areas with panoramic views of the surrounding hillside.
Amenities, such as steam rooms, saunas, whirlpools, a fitness facility and outdoor patios, are specifically created to offer an intimate escape into wellness and tranquility.
When we walked into Spa Pechanga, we were greeted by the spa concierge who quickly checked us in and offered us a tour guide to show us the facility. As we wandered down the long corridor, I felt the stresses of the past couple of months slowly begin to release, the atmosphere so calm and peaceful.
We were led on a tour of the women's locker rooms, which I found quite inviting and luxurious. Good sized lockers were welcoming your arrival and stocked with a bottle of water, a lavish robe and slippers. Next, they showed us the rest of the facility, including the showers, vanity areas, steam and sauna rooms as well as the women's jacuzzi.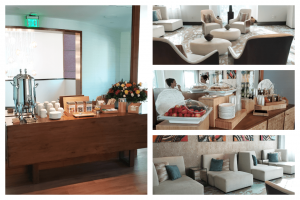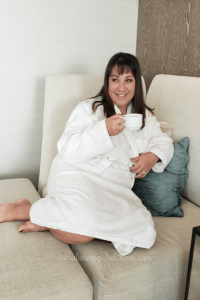 When our tour was complete, we were asked to change to our comfort level then to wander upstairs to the quiet waiting room, where our therapist would pick us op.
During that time, they had light bites and refreshments including tea, coffee, fruits, nuts and mini muffins to snack on. Our massage therapists greeted and escorted us to our rooms where we enjoyed traditional Spa Pechanga 50 minute massages.
The rest of the day, we decided to take full advantage of the facilities and spend the day at Spa Pechanga pool.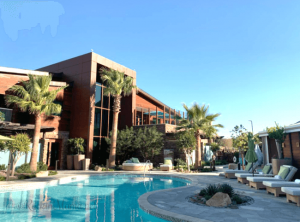 Pechanga Resort Casino offers many different options for entertainment. From comedy club shows to gambling, live entertainment and golf, there is something for everyone. While I didn't have the opportunity to experience all Pechanga has to offer, I am looking forward to returning and bringing my family for a staycation weekend.
The one thing I didn't mention – the food. With over 16 unique dining experiences, you're sure to find the perfect cuisine. Stay tuned as I go in depth at a few of the options that will tempt your appetite in an upcoming feature.
For more information on Pechanga Resort Casino, visit their website: https://www.pechanga.com/