Lunar New Year Table Game Promotions
If winning a brand new car sounds like a great way to ring in the New Year, make plans to come to Pechanga Resort & Casino. Between February 1 and February 27, table games players who win certain hands in Baccarat, Pai Gow, Blackjack, 3-Card Poker, Let It Ride and Ultimate Texas Hold'em will win entry tickets for the Grand Prize drawings on Friday, February 20 and February 27. Each Fridays, 15 raffle winners will received $500 in Easyplay® at 8:00p.m. and 20 raffle winners will received $1,000 in Easyplay® at 9:00p.m. One lucky player each night will drive home in a brand new 2015 Mercedes-Benz CLA. The more you play, the higher chances of winning. In the year of the Ram, luck will be on your side! 
Lucky Red Envelopes Swipe & Win
The month of February lets Pechanga players become even luckier with the "Lucky Red Envelopes" promotion. During Tuesdays of the 17th & 24th and Thursdays of the 19th & 26th, Pechanga Club Card holders can swipe their member card at kiosks across from the Pechanga Box Office. Each times someone swipes, he or she can win up to $1,000 in Easyplay®. For more information, please call 1-877-711-2946 or visit the Pechanga website.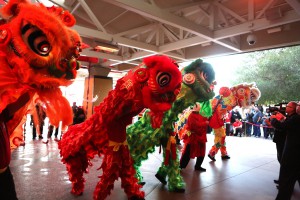 Lucky Lion Dance Performance & Photo Opportunity With The God Of Wealth
Usher in the inspiring Year of the Ram with Pechanga Resort & Casino! Many Asian cultures mark Saturday, February 21 as the Lunar New Year celebration period with their families and friends. Pechanga invites everyone to join the fun and festivities with a wonderful performance by the Lucky Lion Dancers on Saturday, February 21, starting at 3:00p.m. The "lion" awakens and begins its opening sequence at the Pechanga Hotel Valet entrance and works his way throughout the casino floor. Pechanga Resort & Casino executives will follow the lion dancers and pass out lucky red envelopes to guests along the way.
To bring this joyful celebration to another level, come take a photo with the God of Wealth on Sunday, February 22, for infinite luck and fortune in the New Year! Must be 21 or older with players card to participate. These series of Lunar New Year promotions and activities will bring endless joy to all the guests. Pechanga will continue our effort to promote more Asian events for our valuable guests and patrons.