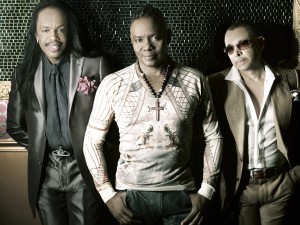 TEMECULA, Calif., (Feb. 12, 2015) — The Earth, Wind & Fire concert tour is coming to rock the house at Pechanga Resort & Casino. With a just announced tour date of April 26, tickets go on sale this Friday, Feb. 13 at $131, $126, $120 and $110, and are available at the Pechanga Box office, 877-711-2WIN (2946) or www.Pechanga.com. With five decades of chart topping hits and their first musical release in eight years with "Now, Then & Forever," the music legends could play every fan's favorite song.


Easily billed as one of the most successful bands of all time, Earth, Wind & Fire has been making hits since the 1970s. The Rock and Roll Hall of Fame members are known for a multitude of hits, including "After the Love Has Gone," "Shining Star," "Let's Groove," "Boogie Wonderland," "That's the Way of the World," "I'll Write a Song for You" and "Serpentine Fire."
Bringing fans together from across the world and throughout the decades, original band member and founder Maurice White hopes the band's music continues to unify mankind. "As we see today's technology uniting the world wide web, sometimes it seems that the hearts of men are growing more distant from each other. It is my hope that this music will continue to tie past to future, reminding us of the love that united us to our ancestors, and to our descendants, and to each other."
For more information please visit the band's official website.