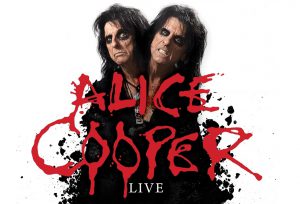 TEMECULA, Calif. (April 2, 2018) – Promoting his latest album, Paranormal, rock Icon Alice Cooper will be coming to Pechanga Resort & Casino this August as part of his upcoming North American tour, "A Paranormal Evening with Alice Cooper". Tickets for Cooper's Temecula concert in the Pechanga Theatre are now on sale. Tickets are $79, $89, $99 and $129 and may be purchased at the Pechanga Box Office, by calling (888) 810-8871 or online at Pechanga.com. Additionally, VIP opportunities including the Front Row Insanity, Diamond Insanity, Gold Preshow VIP and Concert VIP packages can be purchased.
Alice Cooper pioneered a theatrical brand of hard rock designed to shock. Drawing equally from horror movies, vaudeville, and garage rock, the group created a stage show that featured electric chairs, guillotines, fake blood and boa constrictors. He continues to tour regularly, performing shows worldwide with the dark and horror-themed theatrics that he's best known for.
With a schedule that includes six months each year on the road, Alice Cooper brings his own brand of rock psycho-drama to fans both old and new, enjoying it as much as the audience does. Known as the architect of shock-rock, Cooper (in both the original Alice Cooper band and as a solo artist) has rattled the cages and undermined the authority of generations of guardians of the status quo, continuing to surprise fans.
The summer tour kicks off on August 3 Fair and winds through the U.S. and Canada stopping at Pechanga on August 11 before wrapping up in late October.