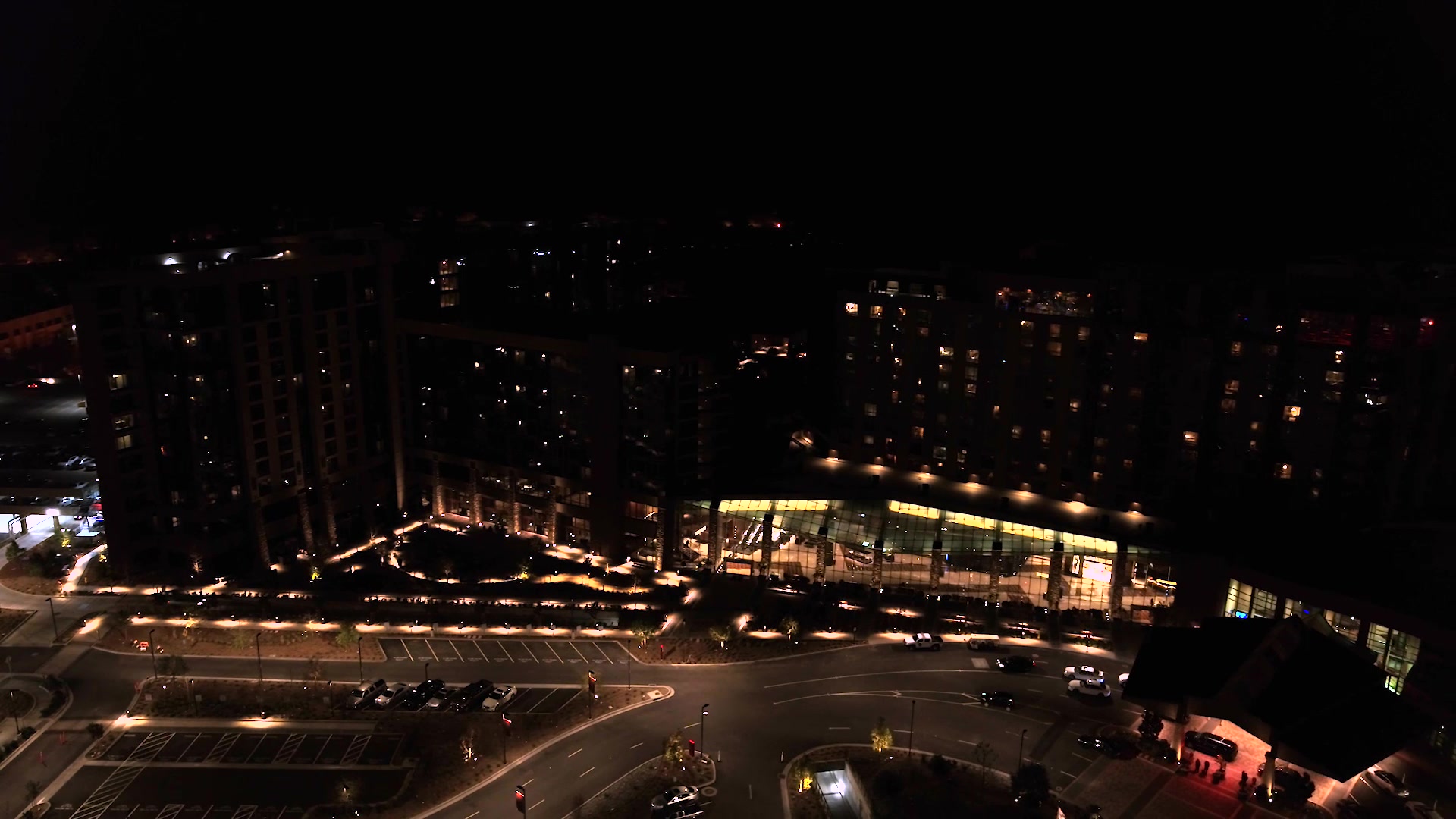 TEMECULA, Calif. – (March 27, 2018) – The colorful and bright exterior lighting on Pechanga Resort Casino's $300 million expansion went dark Saturday, March 24 for one hour. Pechanga joined thousands of other landmark locations throughout the country and the world in commemorating Earth Hour 2018 from 8:30 p.m. to 9:30 p.m. local time. Guests at Pechanga at that time saw the ascending multi-colored lights at the ends of the hotel towers switch off, followed by the beams of up and down white lighting that shows off the resort/casino at nighttime. See video HERE.
Earth Hour started as a symbolic, lights-out event in 2007 in Sydney, Australia. According to EarthHour.org, it is now the world's largest grassroots movement for the environment, evoking change for the planet by millions of people.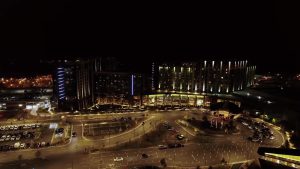 Earth Hour signifies the tireless ecologically responsible commitment Pechanga Resort Casino has practiced for decades. The Temecula resort's Green Team, a group of team member volunteers, is tasked with researching new ways to make the property's eco-footprint as small as possible. Pechanga employs a robust recycling program annually turning over more than 90,000 pounds of meat bones and fat, 322,575 pounds of used cooking oil, 50 tons of glass, 70 tons of aluminum and 300 tons of cardboard for recycling. More than 100,000 gallons of water gets collected annually from condensation created by internal turbines, and the resort's golf course saves millions of gallons of rain and runoff water each year. Much of that water savings is used to irrigate the course.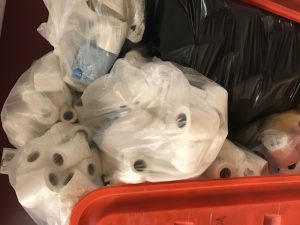 The Temecula resort-casino has donated approximately 6,000 no-longer-full rolls of toilet paper every year to the Bread of Life Rescue Mission in Oceanside, Calif. Resort housekeeping management expects the number of rolls donated to double this year with Pechanga having added 568 more hotel rooms and suites as part of its $300 million expansion. Gently used, clean blankets, pillow cases, bed sheets and ironing boards are also regularly given to the rescue mission that works to provide basic necessities to the working poor and homeless of North San Diego County.
Pechanga also believes in utilizing the utmost ecologically conscious practices throughout the resort/casino, but guests may never know the difference. All 568 of the resort's new rooms and suites built as part of the major resort expansion feature automatic energy-reduction lighting. Guests must insert their key card into a slot inside their hotel room door for the lights to stay on. If they do not, lights are automatically dimmed up to 70-percent. Low flow water fixtures are standard throughout the property, and trash is sorted to separate recyclables.