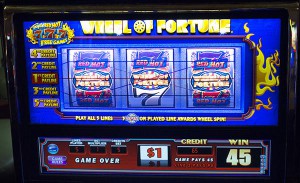 TEMECULA, Calif. – (July 29, 2016) – A guest from Carson, Calif. had checked out of Pechanga Resort & Casino on Friday, July 29, but after playing a $1.00 Wheel of Fortune® machine for about 30 minutes, and winning $474,266.09 she checked right back into the hotel.
The woman and her daughter came to Pechanga Tuesday for their yearly mother-daughter getaway from the Los Angeles area. Before she left the guest wanted to play one last time on the same Wheel of Fortune® machine she won $1,399 on Tuesday. Finding her desired machine occupied, she sat down at a $0.25 game. As soon the machine became available, she told her daughter to run over and grab it. She took over for her daughter, but not before the daughter convinced her to play the machine's max bets. About 25 minutes later, luck struck big. Three Wheel of Fortune® symbols lined up across the center of the screen. Since she played the max bet on her spin, she won the full progressive amount of $474,266.09
The retired private airline supervisor told casino staff she plans to give some of the money to family and some to her favorite charities that help animals.
Big winner happen often at Pechanga Resort & Casino. The resort has had 11 million dollar jackpot winners since opening in 2002.