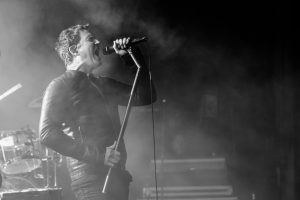 "Third Eye Blind's music has over the intervening years become an unexpected touchstone…Perhaps it's that after-the-fact renown that's kept frontman Stephan Jenkins in fighting form…expect its charms to echo for a while."  – LA Times
TEMECULA, Calif. – (September 18, 2019) – Third Eye Blind will perform Friday, November 29, at 8 p.m. inside the Pechanga Theater at Pechanga Resort Casino. Currently on sale, tickets start at $35.25 and can be purchased at the Pechanga Box Office, by calling (888) 810-8871 or online at Pechanga.com/entertain.
Since 1997, San Francisco's Third Eye Blind has recorded four best-selling albums and assembled one career retrospective. 3EB recently released "the 20th Anniversary edition of their 7 million selling self-titled debut. Led by Stephan Jenkins, 3EB won wide success during a tumultuous group of years when the major-label recording industry was finally losing its grip on an enterprise that for decades it had dominated with steely efficiency. Nothing could have made 3EB happier!
3EB, however, has experienced no comparable loss. Instead, they have gained artistic clarification — and, surprisingly, a fan base who is larger, younger and more dedicated than ever. Participation in the older, untouchable realm of nervous star-making could color a band's identity. In the case of 3EB, it often blurred the perception of their brilliant musical creations. In recent years, those creations have recast the band among a current generation of fans. 3EB now write, tour, record, and communicate in a fluid new world where their music continues naturally to evolve.
Their exchange with their audience is unfiltered and being from the hub of tech, they are using it to develop a closer exchange with their audience. After a stunning festival run in 2016 with appearances at Lollapalooza, Outside Lands, Bumbershoot, Bonnaroo and many others, they completed a fantastic 20th Anniversary celebration in Summer 2017 and are currently finishing a festival run. Their covers release Thanks for Everything features a cover by Andy Warhol.
The band's sixth album Screamer will be released October 18. Listen to the title track here.