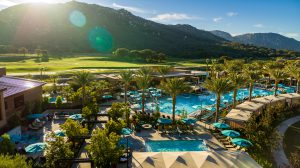 TEMECULA, Calif. (February 28, 2023) – Just in time for Spring Break this March, one of the largest pool complexes at one of the country's biggest resort/casinos reopens for the season Monday, March 13. This year, pool-goers everywhere will have access to The Cove's oasis-like environment that's the size of five football fields. Pechanga Resort Casino's Cove management makes day passes, cabana and daybed rentals available for non-hotel guests, as well as to Pechanga hotel, Pechanga RV and Temecula Creek Inn guests.
Day passes are priced at $45 plus tax for non-hotel guests. These are available at The Cove check in area. Cabana and daybed reservations may be made in advance by hotel and non-hotel guests by calling (888) 732-4264. Cabana and daybed rental rates vary based on day of the week and availability.
Pechanga Resort Casino's 4.5-acre pool complex, The Cove, equals in size to more than four football fields. It features four pools, three spas, two twisty waterslides, 27 cabanas, six oversized daybeds that skim the main pool, a swim up bar with 18 submerged seats and Baja ledges. Pechanga Resort Casino also introduces new hotel specials for discerning guests on the look out for value-added getaway deals.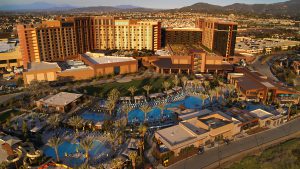 The Fun In The Sun Pechanga hotel package is available for stays starting March 13 through October 29, 2023. This stay and play package offers deluxe overnight accommodations, cabana rental at The Cove which includes entry for up to six guests and personalized food and beverage service with a required $100 minimum, and $20 in Pechanga EasyPlay. The Fun In The Sun package starts at $309 per night. To book, visit Pechanga.com/stay/packages and use code FUNCAB.
By the Numbers:
-The Cove's area equals 4.5 acres. That's more than 5 football fields combined.
-4 pools. The largest is the 21 & older main pool at 7,500 square feet. The family pool is 4,358 square feet.
-2 twisty waterslides at the family pool
-18 underwater seats at the swim-up bar at the main pool
-27 Cabanas & 6 Daybeds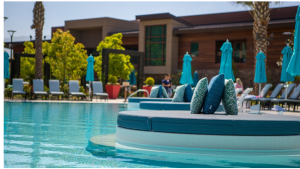 Since opening in 2019, The Cove has proved a popular oasis-like spot for guests celebrating birthdays and bridal showers, and of course, for those who just want to soak up the Southern California sun in style. Grabbing a bite to eat or a refreshing drink at The Cove is easy with dedicated cabana servers, as well as poolside service at your lounger or at the walkup food bar.
Inside the Cove complex, guests will also find several modern fire pits perfect for sitting by and sipping a refreshing beverage, men's/women's locker and changing rooms, the walk-up Coveside Grill restaurant, luxury cabanas with personalized food and drink service, and a 26,140 square foot lush green lawn for private events.
Other important info:
-Pechanga hotel guest admission to The Cove – complimentary
-Pechanga RV and Temecula Creek Inn guest admission to The Cove – $30 day pass
-Cabanas & Daybeds – rate varies based on weekday/weekends and on availability.
For more information on the Cove, visit pechanga.com/indulge/the-cove or call 951-770-8450.