TEMECULA, Calif. – (June 24, 2015) – Kiyokuni Ikeda, a self-taught sushi chef who dropped out of high school to aid his ailing father, has landed the top job at Umi Sushi & Oyster Bar at Pechanga Resort & Casino. After spending nearly 15 years working at prestigious sushi restaurants in Philadelphia such as Zama and Morimoto (of Iron Chef Masaharu Morimoto fame), Ikeda is happy to call Southern California home.
Though they lived in Tokyo, Chef Ikeda's parents ran a successful coffee and soba noodle shop in Nagano Prefecture, Japan, more than two hours away. He helped in the shop occasionally as a child, but he recalls one singular moment when food opened his eyes to another world.
"When I was 10 years old, I tried an Egg McMuffin. It was kind of a shock to me, in a good way," Chef Ikeda explained. "The texture and flavor were so different from anything I'd ever eaten before. English muffins weren't something you could find at the market, and in Japan, or at least in my family, we never cooked eggs that way." 
The aspiring 10-year-old chef began tinkering in his parents' shop trying to recreate making English muffins himself, admittedly failing miserably. He kept trying and by 17 years old, he had created a recipe very close to the real thing. At the start of his final year of high school, however, his father suffered a debilitating stroke so Ikeda left school to help run his family's restaurant. He perfected the art of making handmade soba noodles and coffee for which he says tourists would travel many miles.
At 19, he knew he wanted a career in culinary arts, but realized he needed more experience. He took a job at a high-end Chinese restaurant in Tokyo. It was there he says he learned to focus on delivering simplicity with high quality ingredients allowing the food to stand on its own. He considers himself lucky regarding his move into making sushi. Whereas some sushi chefs in Japan have had to spend years at one task, he took a job as a "sushi helper" and learned everything from making rice to cutting and serving fish in about one year.
With a desire to do more with his career and see more of the world, he set his sights on moving to the United States. He looked in the classified sections of culinary magazines and if the listing read "America," he called them. This approach landed him in Philadelphia, and 15 years later, he became pleasantly surprised when the management of a popular sushi and oyster bar inside California's largest casino/resort came calling.
"This move has been very lucky for me and my family. We've dreamed of coming to California. We look forward to going camping and exploring Southern California."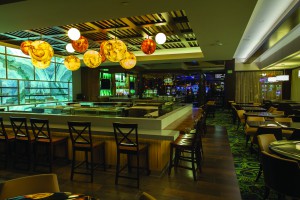 At Umi Sushi & Oyster Bar, he has already made an impression by bringing new items such as live spiny sea urchin and scallops to the menu. "When I'm cooking, I always imagine the happy face of my family and customers enjoying my food. That gives me great satisfaction."
Umi Sushi & Oyster Bar is open for dinner from 5:00p.m. to 10:00p.m. Sunday through Thursday and from 5:00p.m. to 11:00p.m. Friday and Saturday. Umi Sushi & Oyster Bar is one of Pechanga's 11 dining outlets.