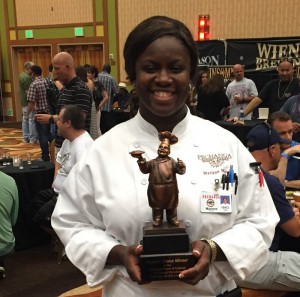 TEMECULA, Calif. — (June 9, 2015) – A new chili champion has been crowned by the people the annual Pechanga Microbrew Festival and Chili Cookoff at Pechanga Resort & Casino. Temptations Food Court chef, Marlene Moore, tantalized the sold-out crowd with her "Temptation" Hearty Southern Style Chili. She edged out seven other Pechanga chefs' chili varieties which included Texas-style chili with trio of meat, steak chili mac, and black bean chili con carne, with poblano rajas, crispy pork and shishito peppers.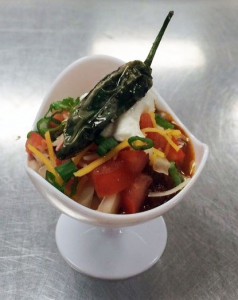 With 219 votes out of a total of 914 from  style="line-height: 1.714285714; font-size: 1rem;">Microbrew Festival attendees, Chef Moore, originally from Trinidad and Tobago, unseated Chef Damian Stanley of Umi Sushi & Oyster Bar who had held the chili throne for two years. Stanley received third place with 153 votes. Kelsey's chef, Ronnel Capacia, came in a close second with 155 votes. Now in its seventh year, 1,695 people came to enjoy brews, chili and music at the 2015 Pechanga Microbrew Festival, making it the most well-attended to date. Proceeds from the event benefited Habitat for Humanity Inland Valley.
Beer experts say Chef Moore's chili pairs well with an IPA or Double IPA with robust malt and extra hops to stand up to the intense peppers in this dish. Here's the award-winning chili recipe.
Chef Marlene's Chili Original Temptation Hearty Southern Style Chili Recipe
Ingredients:
5 pounds ground beef
4 cup diced onion
1 cup diced green bell pepper
1 cup diced red bell pepper
5 cloves garlic, minced
2 (10.75 ounce) cans tomato puree
1 (15 ounce) can kidney beans with liquid
1 (15 ounce) can pinto beans with liquid
¼   teaspoon paprika
¼   teaspoon oregano
¼ cup oil
1 arbol chili pepper (roasted & crushed)
1 California Anaheim chili pepper (roasted & crushed)
Sprinkle of: dark chili powder, cayenne powder, onion powder, ground black pepper and cumin
Salt to taste
Directions:
Place the oil in a skillet until hot, and sauté the garlic, onions, green & red bell pepper
Place the beef in the skillet over medium heat, and cook until evenly brown
Place the tomato puree, kidney beans, and pinto beans. Season with paprika, oregano and the Roaster chili Heat & salt to taste. (If you like it spicier you can add more roasted chili heat…)
Cover and slow cook for 8 hours on Low.
Garnish: Optional 
Pico De Gallo
Mixed Cheese
Diced Green Onions
Sour Cream
Fried Fresh Japanese Chili on top
With a dash of Roaster Chili Heat