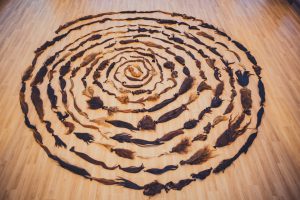 -Spa Pechanga's Haircutting Campaign and Pink Events Raise Money & Ponytails for Breast Cancer Awareness Month-
TEMECULA, Calif. – (Nov. 6, 2018) – Straight, curly, styled or natural. In October, men, women and children came to Spa Pechanga to cut and donate their long locks. In its sixth and most successful year yet, Spa Pechanga at Pechanga Resort Casino in Temecula, Calif. collected more than 200 ponytails or 224 feet of hair through the spa's sixth annual Mane Campaign. The length of the hair is longer than the 230-foot gallery in the Palace of Versailles and 10 times taller than a giraffe.
Nearly 100 donors visited Spa Pechanga to chop eight or more inches off of their hair during the campaign. The amount of the hair this year equals to roughly 40 real hair wigs, and the record for longest ponytail has been achieved at 23 inches.
In honor of Breast Cancer Awareness Month, the generous hair donors received free haircuts and styles in return. Spa Pechanga sends the hair to the Pantene Beautiful Lengths program which turns it into wigs for women battling breast cancer. Women can obtain the wigs free of charge through the American Cancer Society's network of national wig banks.
Statistics show it takes four to six ponytails to make one complete wig for someone undergoing cancer treatment. To date, the spa has collected more than 500 ponytails, enough for 83-100 wigs. It takes five to six ponytails to make one real-hair wig.
Additionally, Spa Pechanga and The Cove, Pechanga's new 4 ½ acre pool complex, hosted pink events in support of the cause. Fifty percent of the ticket sales from the spa's Pamper & Pink Spa-rty were donated to Susan G. Komen, amounting to nearly $750, while one hundred percent of the proceeds from The Cove's Twilight Candle Send-Off were also donated, which raised nearly $550.
For more than a decade, Pechanga Resort Casino has been a major supporter of the Susan G. Komen Foundation in its region. Since 2011, resort/casino team members have donated more than $348,000 to the fight against breast cancer and toward raising awareness.
For more information on Spa Pechanga, visit www.pechanga.com or call 951-770-8501.