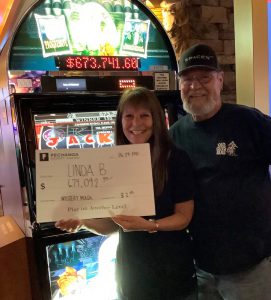 TEMECULA, Calif. – (July 1, 2021) – One very lucky lady is celebrating a $674,092.00 jackpot win during a Tuesday night at Pechanga Resort Casino. Linda Brooks of Menifee, Calif. walked into Pechanga that evening with her boyfriend and proceeded to enjoy a few slot games they had not played for a few weeks. After some time spent there, the pair was about to leave the resort when they passed by the $1.00 denomination, oversized Mystery Mask slot machine, which is located near Pechanga's North entrance. Her boyfriend, Bob Reagan, said he handed Linda $100 to play the machine while he went to try his luck at another slot. About five minutes later, Bob's cell phone rang. It was Linda. She frantically said, "you better get back over here." As he approached the machine, they both realized she had hit the massive progressive jackpot.
"We've played that mask machine in the past and watched the progressive amount go up from time to time during our visits to Pechanga," said Reagan. "We were out of town for a few weeks and driving into the parking lot during our latest trip to Pechanga, we kind of laughed to ourselves wondering if anyone had won the progressive amount on the Mystery Mask slot machine."
"God is good," said Reagan. When asked what she would do with her windfall, Linda answered she will help some of the people in her life. Bob added she has a big heart.