Jackpot Win on Same Machine Another Winner Scored $784,729.93 Eight Days Ago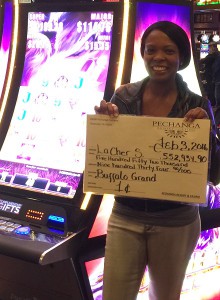 TEMECULA, Calif. – (Feb. 3, 2016) – A Compton, Calif. nurse with two jobs struck it rich Wednesday, Feb. 3 at Pechanga Resort & Casino. La Cher Schools, a pediatric and senior rehabilitation nurse, won $552,934.90 playing a Buffalo Grand $0.01 slot machine at 4:49a.m. The winner told casino staff she works a lot at varied hours and likes to visit Pechanga in the middle of the night during the week when the machines are less busy. With her sister and her 24-year old niece also currently staying with her in a small apartment, Schools says getting time for herself, even for a few hours is sometimes a nice break. She hit her jackpot on what may be considered a very lucky machine. Eight days ago, a winner from Los Angeles who chose not to be named won a $784,729.93 progressive jackpot on the same slot machine Schools hit.
"I'm still waiting for someone to walk up to me and say, 'Ma'am, you won $5.00. Not $500,000.' This is unreal," said Schools. "As soon as I won, I called by boyfriend, Sean. "I knew he'd be getting ready for work, but I told him, 'Take off work. I just won half a million dollars.' I needed him to celebrate with me." 
Sean Ny, Schools' boyfriend and an electrician, said he was already up and about to leave for work. He made it to the casino in less than 90 minutes.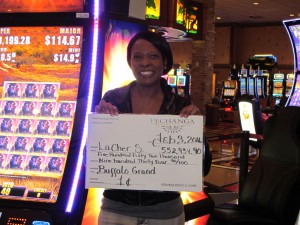 Schools called the major jackpot win a fresh start for her boyfriend and her family. They plan on paying off debts and buying a house. Schools sold her house in La Habra, Calif. three months ago after her adult children moved out. She downsized and began renting an apartment, though she quickly discovered the downsides of apartment life. She plans to begin house hunting this weekend and relocate back to La Habra. Schools and Ny also plan on taking vacations they have not previously been able to afford.
"We want to do some Temecula wine country tours, and go to Hawaii. We've never been."
Pechanga Resort and Casino makes winners out of players every day. You could be next.