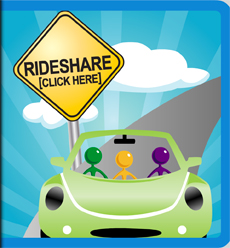 TEMECULA, Calif. (April 21, 2014) – Just in time for Earth Day 2014 (April 22), eye opening numbers have just been released by the IE511 Ridesharing program for one major Southern California employer's smog-reducing efforts. Pechanga Resort and Casino employees, encouraged to use the company's rideshare program, have eliminated the equivalent of 114,745 pounds of pollution and 378,160 driving trips. IE511.org, the one-stop phone and web service for transportation information in Southern California's Inland Empire, compiled the information on Pechanga, a program partner for the last seven years.
 "Ridesharing makes it possible for a single company to make a big positive difference in the environment, "says IE511 program manager Brian Cunanan. "Our studies show that more than 70-percent of people who rideshare for three months continue, even after they finish our initial $2.00 a day incentive program. An added benefit is the resulting regional database of commuters who want to rideshare. People who live in one city but commute a long distance to another city can find one another, work out car- and vanpools, and share in the incentives."
Nearly 300 Inland Empire worksites team up with IE511.org to provide employees with ridesharing services and incentives. At Pechanga Resort & Casino, 218 employees currently use the Rideshare Plus membership program for long-term ridesharers. They carpool, vanpool, take the bus, bicycle, walk, or telecommute at least one day a week. As Rideshare Plus members, they receive a coupon book, plus access to a private website where they can download coupons from more than 135,000 merchants. Companies that team up with IE511.org are able to offer employees even more. New ridesharers may be eligible for a $2.00 per day incentive for each day they rideshare for the first three months.
Pechanga Resort & Casino has had 1,111 employees in the IE511 Rideshare program and they have eliminated a total of 7,715,592 total miles in trips to and from the resort. When you translate the miles not driven into dollars, Pechanga employees are saving $4.6 million dollars on their commutes. On top of the savings, Pechanga employees have also received $51,518 in grocery gift cards for becoming new ridesharers and qualifying for the $2.00 per day new ridesharer incentive.
"We tell our new team members all the time about all the incentives and perks they get when they come to work here, and the ridesharing program is certainly a valuable one. Not just for the ridesharer, but for our community as a whole. The more unnecessary automobile trips we can help eliminate, we're all for it," says Rudy Prieto, Pechanga Resort & Casino general manager.
About IE511
IE511.org and 511 phone service is a one-stop phone and web service for transportation information in Southern California's Inland Empire. Since inception, more than 2.5 million people have called or clicked for services including real time traffic information, incident alerts, freeway closures, ridesharing information, bus/rail trip planning, and Park & Ride information. Both the website and telephone service are owned and operated through a partnership of the Riverside County Transportation Commission (RCTC) and the San Bernardino Associated Governments (SANBAG).