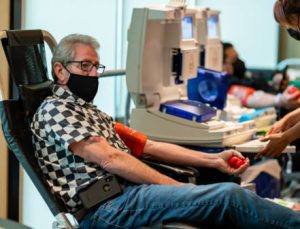 TEMECULA, Calif. – (April 23, 2021) – Pechanga Resort Casino celebrates its generous Team Members who took time out of their days to roll up their sleeves and give blood. A total of 86 team members each donated a pint of blood. According to the LifeStream Blood Bank, one pint of blood can save up to three lives and the donation of 86 pints means up to 258 people could be helped through last week's initiative.
Pechanga Resort Casino typically hosts two blood drives for its employees and the public each year. Both events were canceled in 2020 due to COVID-19. Pechanga's leadership is grateful to be able to have held the most recent one for team members to promote lowered capacities and ample social distancing.
Throughout the pandemic, Pechanga's team members have contributed to the community through volunteer efforts at food banks and food distribution sites, donating masks and much more. Pechanga has also provided countless contributions to the Southern California community. Visit pechanga.com/community-outreach-during-pandemic for more on these donations and the people they have helped.