---
---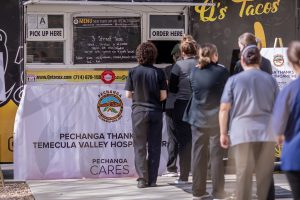 INLAND EMPIRE – Hospital staff at four Riverside County hospitals received free meals from food trucks this week. The trucks, sent by the Pechanga Tribe, showed up on site at a different hospital each day for both morning and evening shifts. This ensured any hospital staff member who wanted a hot meal or even just a snack was able to get one at no charge. Pechanga fed roughly 2,250 hospital staff tacos, rice, beans and dessert.
Food trucks included Qs Tacos from Temecula and Quiroz Tacos from Murrieta.  Pechanga's in-house bakery supplied hard working hospital staff with freshly baked, oversized cookies and bottles of water.
Food truck vendors were also very happy to have the sponsorship from Pechanga.
Quiroz Tacos did not receive any work in 2020 due to the pandemic.
Pechanga spent nearly $20,000 on the food service. They are giving back to say thank you to these integral medical staff members who have given so much of themselves for the last 12 months and counting. After such positive feedback, the Tribe is sponsoring another round of taco truck visits to hospitals next week. 
To watch a video on the food truck donations, visit: