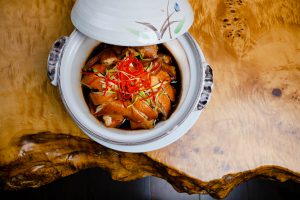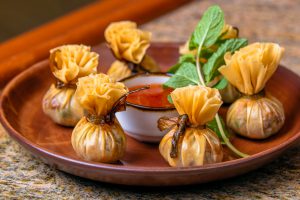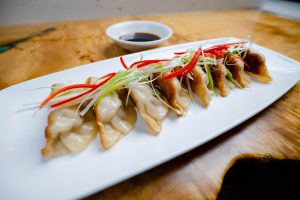 (January 20, 2021) February 12th marks Lunar New Year and ushers in the year of the ox. For the occasion that's so culturally important to millions around the world, three chefs are happy to share their family recipes they make to mark the time for both family celebration and reflection.
Chef Timmy Che, originally from Macau, China, says the annual Lunar New Year dinner is extremely important to Chinese people. He recounts it's often a highlight of the year celebrated with rich and colorful foods that are also deep in meaning and significance. Typically, families will serve a whole chicken (meaning there's a plan for the year ahead), fish (to bring prosperity), lotus root (to bring intelligence), lettuce (to signify riches), raw garlic (for being intuitive) and more for good luck.
Here are 3 recipes you can make at your home that will help you spend time with your family, bringing you richness not bought with money.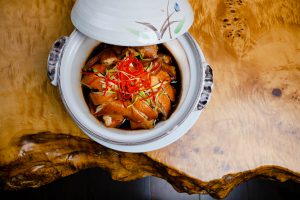 Clay Pot Soy Sauce Chicken by Timmy Che
Ingredients​:
Whole Chicken 4-5LBS
Green Onions 4oz, Julienned
Red Bell Peppers 4oz, Julienned

Soy Sauce Base Ingredients​:
(A)
Star Anise Seed 1oz
Dried Licorice 1oz
Cinnamon Stick 2oz
Bay Leaves 10 pieces
Dried Ginger 2oz
Orange Peel 2oz
Fresh Ginger 4oz
Green Onions 4oz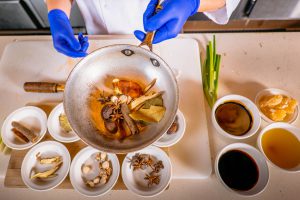 Lightly toast all of these in a small skillet. Then put all ingredients into a spice bag.
(B)
Chicken Broth 5LBS
Soy Sauce 6LBS
Dark Soy Sauce 3LBS
Rock Sugar 10LBS  (this cooks down quite a bit)
Chicken Powder 4oz
Chinese Rose Wine 4oz (found at Asian grocers)
Salt 2oz
Instructions​:
(1) Put all ingredients (A) inside a spice bag and put it with ingredients (B) in a stock pot and bring it to a boil. Once it boils, turn down fire to low and let it simmer for about 2 hours. This will be the soy sauce chicken water base.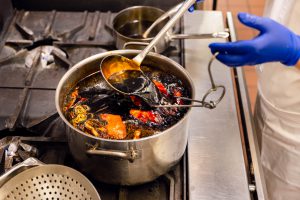 (2) Clean chicken by taking out extra fat and giblets inside it. Thoroughly rinse inside and out, then set it aside to let it dry. After the soy sauce chicken water base is ready and still boiling, put the chicken into the sauce, grabbing by the neck and "dunk" into the sauce up to neck so the sauce can get inside the chicken. Do this process for 5 to 6 times. Leave chicken inside soy sauce make sure it is all submerged under it and turn off the fire for about 40 to 45 minutes. After that time is up, take out the chicken and put it on the side to cool down. Once it's cooled down, cut it in small pieces.
(3) Put cut chicken inside an 8" claypot, then baste it with soy sauce water base about 6oz and add in green onion julienne and red peppers julienne on top of the chicken. Put the claypot cover on and bring it to a boil for about 2 to 3 minutes. Serve and enjoy!
Reminder​:
The reason we "dunk" the chicken is to make sure it will cook evenly and let the skin expand during this process, or else when you cut the chicken, blood water will come out and look under cooked or raw.
*For more good fortune, you can save the liquid for 10 days in the refrigerator or for up to 6 months in the freezer to use again.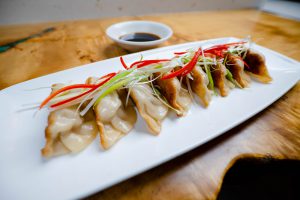 Chinese Pork Dumplings by Bobby Cheng
Bobby Cheng worked in his parents' Atlantic City Chinese restaurants after school and on weekends throughout high school. One of his favorite things to make with his grandmother was traditional Chinese dumplings. "The whole family would get together before Lunar New Year and we would make them in assembly line style. It allowed us a lot of time to have fun and joke around with each other."
Here's Bobby's recipe:
Yields 40-50 dumplings:
Ingredients:
Filling:
1 lb Ground Pork
2-3 Cloves Garlic (minced) or 1 Tsp Garlic Powder
1 Bundle Green Onions (diced)
3 Tbl Minced Ginger
1 Tbl Oyster Sauce
1 Tbl Soy Sauce
1 tsp Salt
1 tsp Sugar
1 Tsp Shaoxing Cooking Wine
1 egg (optional)
Wrappers
Store Bought Potsticker or Dumpling Wrappers
OR
Home Made Wrappers
2 ½ cups all-purpose flour
¾ teaspoon kosher salt
1 cup hot water
Directions
If you're making the wrappers:
Mix 2 ½ cups all-purpose flour and ¾ teaspoon kosher salt in a bowl. Slowly add in 1 cup hot water in a bowl while stirring. Knead dough until smooth and elastic. Form into ball, wrapped in mixing bowl and allow dough to rest for 30 minutes. After, divide and roll dough into thin wrappers by forming round balls and flattening them into roughly 3.5-inch circles.
Filling: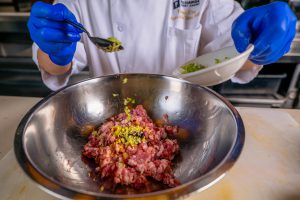 In a mixing bowl, add ground pork, green onions, garlic/garlic powder, oyster sauce, soy sauce, salt, sugar, and Shaoxing Cooking Wine.
Mix until thoroughly combined and pork is smooth.
Allow to rest for 15 minutes.
Take a spoon and scoop about .5 oz of the filling into center of the potsticker wrapper.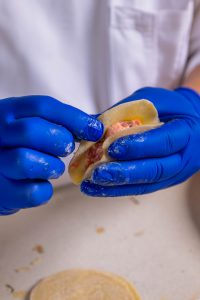 Lightly moisten the edges of the wrapper with either water or beaten egg.
Pinch the edges forming pleats on one side.
Cooking: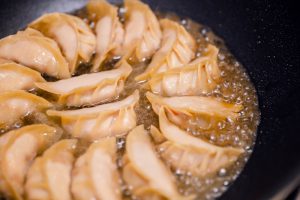 Heat a preferably Non-Stick Pan over medium-high heat. Once pan is hot, add about 2 tablespoons of oil. Place about 6 or 7 pot stickers in the pan. Cook until bottoms are golden brown or about 2 minutes. Drizzle in water and cover the pan; steam for 3 minutes. Continue cooking until water/oil evaporates.
(Optional step, I like to make both sides crunchy, so I flip them, add a little more oil, and cook for another minute)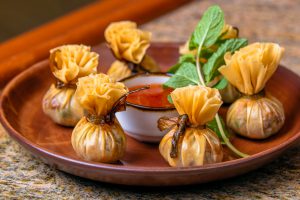 Thai Golden Bags by Marie Surakul
Chef Marie Surakul and her mom used to make these delightful appetizers together ahead of Lunar New Year in Thailand. While much of the country does not celebrate the holiday, Marie is also of Chinese descent and her family honors those roots. She said her mom would mix up the filling from time to time. This is Marie's version.
Ingredients for filling:                                                     Ingredients for Sweet Chili dipping sauce: 
3 Oz Ground chicken                                                            3 ½ cups sugar
20 sheets spring roll wrapper                                             ½ tbs.  salt
3-4 cloves garlic                                                                     1 ¼ cups vinegar
2 Tbsp. cilantro stems                                                           ½ – ¾ cup ground garlic chili (Sambal Oelek)
3 chopped shitake mushrooms                                            ¼ cup chopped garlic
1 Oz carrot                                                                               *Boil together for 15 minutes. Let cool down
1 Oz pea                                                                                    before serving. (Sauce is available at Asian                                                                                                         markets premade.)
1 Oz sweet potato                                                                   
1 tsp oyster sauce
1 tsp sugar
1 tsp cornstarch
½ tsp black pepper
20 Chinese chives or green onions
Vegetable oil
Combine oyster sauce, sugar, black pepper and cornstarch in a bowl. Stir until well combined and set aside. In food processor, add ground chicken, garlic cilantro stems and 2 tbsp. of sauce. Blend together and remove to a bowl. Add shitake mushrooms, carrots, peas and sweet potato and the rest of mixture. Blend together well. Cover and keep in refrigerator for 1 hour.
Boil 2 cups of water add pinch of salt. Put chives (or onions) in for a couple seconds and remove. Submerge them in ice cold water. Remove from cold water after 10 seconds and squeeze excess water. Set aside.
After 1 hour, gently sautee the chicken mixture until it reaches a golden color. Take off the heat and allow to fully cool.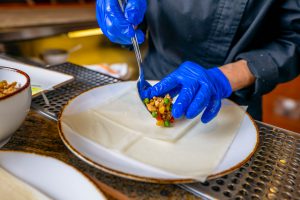 Once chicken mixture is cooled, take spring roll wrapper and put 1 tsp of meat in the middle of the wrapper. I like to add 1/2 of another wrapper at the bottom to provide a reinforcement. Grab the edges together like a bag and tie with chive twice. Cut off the chive if the ends are too long. Continue until all the filling is used up.

Fry in hot oil at 350F until golden brown and removed. Set on cooling rack for couple minutes to remove all the oil and serve.