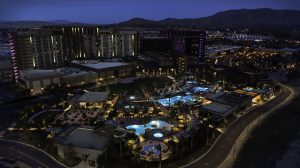 TEMECULA, Calif. (February 20, 2019) – Tallies counted and ratings calculated, Spa Pechanga received a Four-Star rating in the distinguished Forbes Travel Guide, while Pechanga's hotel received a Forbes Travel Guide (FTG) Recommended rating. The ratings put Pechanga Resort Casino on the international luxury travel map. Spa Pechanga has only been open for one year. Raters evaluate all properties based on 900 separate, objective criteria.
Forbes Travel Guide released their 2019 FTG Recommended, Four-Star and Five-Star ratings February 20.
A Four-Star rating recognizes "exceptional properties, offering high levels of service and quality of facility to match" and an FTG Recommended rating recognizes "excellent properties with consistently good service and facilities," as explained on the Forbes Travel Guide website. Forbes serves as the hospitality industry's premier standard, creating the original Five-Star rating system in international luxury travel in 1958.
"Last year's resort expansion allows Pechanga to deliver an even higher standard of luxury travel. Our Forbes ratings are a testament not only to our new expanded offerings, but most importantly to the commitment to excellence by our team members," said Jared Munoa, Pechanga Development Corporation President. "We pride ourselves on consistently delivering excellent customer service, and now we are proud of this recognition for our team."
"Receiving this prestigious recognition in just the first year of our new spa operation speaks volumes of our team and their level of professionalism, care and detail," said Thomas Mueller, Vice President of Hotel Operations. "This spa was designed to take the experience to a whole new level. We're proud to be one of only 25 California Four-Star rated spas."
Based on Booking.com offerings, it is estimated that 0.4-percent of the world's hotels are awarded any of the three Forbes Travel Guide ratings. Forbes rates nearly 1,700 hotels, restaurants and spas in 60 countries and counting. In 2019, there is a combined total of 903 spas, hotels and restaurants in the world that carry a Four-Star rating.
The largest spa in the region, Spa Pechanga was added in the property's recent $300 million expansion along with 568 new hotel rooms and suites, completed in March 2018. Pechanga now offers 1,090 AAA Four Diamond hotel rooms and suites.
The new Spa Pechanga incorporates wide use of native botanicals. It encompasses two levels connected by a spiral staircase within a curved, two-story glass window. The spa features 17 treatment rooms, outdoor cabana massage services, a movement studio with fitness classes and wellness consultations, a dedicated spa pool complex, two hydrotherapy pools, plus a hair, make-up and nail salon with barbering services.
Visitors to Pechanga also find a 200,000 square foot casino, 20 restaurants and bars, a variety of entertainment options, nightlife and on-site championship golf course. Pechanga features 24-hour room service, complimentary concierge, self and valet parking.
For questions or for more information on Spa Pechanga or the hotel, visit pechanga.com.