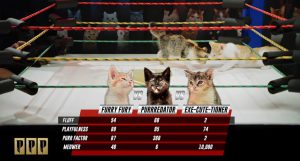 TEMECULA, Calif. (May 31, 2022) – Pechanga Resort Casino releases its latest round of slot machine promotional videos online and on social media June 5, 2022. As scientifically proven, the Internet loves cats and these videos contain three of the cutest kittens available for adoption at Animal Friends of the Valleys Animal Shelter. The video features the then seven-week-old kitties in a Pro Wrestling ring where the furballs play, tumble, actually wrestle, are rated on a cuteness meter, and at times, get cornered on the ropes by their "opponents." Pechanga Resort Casino recently installed the Lucha Kitty™ and Sumo Kitty™ $0.01 denomination slot machines by Light & Wonder™ for guests to play on the casino floor.
In discussing the idea for the video campaign, Pechanga's marketing team saw the opportunity to also bring awareness to the urgent need for kitten and cat adoptions. The three star kitties, plus numerous other cuddly cats are available for adoption now at Animal Friends of the Valleys.
March through October is the feline breeding season, commonly known as "kitten season." While it's common to see a year-long amount of kittens come through the shelters' doors during kitten season, the past two years have been purr-fectly plentiful, according to Beth Soltysiak of Animal Friends of the Valleys. With kitten season once again in full swing, shelters such as Animal Friends of the Valleys are full once again with cats, giving them claws for concern.
"Animal Friends of the Valleys is a non-profit animal shelter serving the cities of Temecula, Murrieta, Wildomar, Menifee, Canyon Lake, Lake Elsinore and surrounding rural county areas. Pechanga Resort Casino has been a strong partner to our organization, and we are thrilled to once again partner with Pechanga on this adorable video we hope will send a few more people our way to adopt some of the animals in need at our shelter," said Beth Soltysiak of Animal Friends of the Valleys.
The Humane Society of the United States reports that while the percentage of pet cats that are spayed or neutered sits at 85-percent in a 2021-2022 survey, that number is flipped when looking at feline pets living in underserved communities. They illustrate that 88-percent of those cats are not fixed.
"Pechanga has always come up with creative ways to promote the slot machine on the casino floor, but this initiative brings together the element of going outside of one's self and helping the greater good," said Alex Rodriguez, Vice President of Slot Operations at Pechanga Resort Casino. "We hope the campaign helps that many more pets find fur-ever homes."
Throughout the year, Animal Friends of the Valleys in Wildomar, Calif. offers reduced cost spaying and neutering for kittens, cats and other pets. Appointments can be made by visiting afv.org/spay-neuter or calling (951) 674-7729.
Watch Pechanga Resort Casino's video featuring the three kitties – Furry Fury, Purrredator and The Exe-cute-tioner, and check out the cuddly kitties' collectible wrestling cards on Pechanga's social media channels.