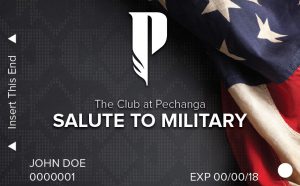 TEMECULA, Calif. – (May 31, 2018) – Pechanga Resort Casino takes its community involvement very seriously, a commitment that it proudly extends to our nation's military and veterans. With that commitment, for the first time, Pechanga is now issuing Salute to Military Club Cards to all active duty or retired military personnel.
Obtaining a Salute to Military Club card is easy and free. Individuals with valid active duty, veteran or retired military identification can stop by the Pechanga Club desk on the main casino level to pick up their cards, which provide members with a wealth of discounts on Pechanga amenities throughout the resort. These discounts are valid all the time, not just on Memorial Day or 4th of July.
Members are entitled to a 10 percent discount at Pechanga's tasty roster of dining establishments, including the Pechanga Café, Bamboo, Blazing Noodles, Kelsey's, Paisano's, Journey's End, the Lobby Bar & Grill, Coveside Grill, Umi, the Great Oak Steakhouse, Temptations Food Walk and Blends, along with a $6 discount at the Pechanga Buffet.
But the savings only begin at the palate. Salute to Military Club members also receive a 10 percent discount for tickets to the A-list entertainment at the Pechanga Theater, as well as two-for-one tickets to the Sunday 7:30 p.m. performance at the Pechanga Comedy Club. Ten percent also comes off at Pechanga's plethora of retails shops: the Hotel Gift Shop, Casino Gift Shop, Journey's End Pro Shop and on Spa Pechanga products.
Speaking of Spa Pechanga and Journey, members receive a 5 percent discount on Spa Pechanga treatments and special green fees at Journey at Pechanga: $70 on weekdays and $90 on weekends – a rate good for up to four players.
Finally, members receive a 10 percent discount on hotel accommodations.
"Saying 'thank you' to our military is the right thing to do. They volunteer their commitment and dedication to our country, and it is our privilege to offer them something small in return," said Pechanga Resort Casino General Manger, Lee Torres.