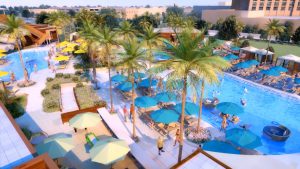 TEMECULA, Calif. — (August 4, 2017) – Pechanga Resort & Casino will host its 6th and 7th job fairs on August 8 and August 31 for candidates interested in being one of 750 additional team members to staff the resort's major expansion. Candidates interested in being a Food & Beverage team member should attend the job fair on Tuesday, August 8 m. in the Eagle's Nest during the following times; 8-11a.m., 1-4 p.m., and 6-9 p.m. If you're more interested in working in Pechanga's Hotel division, you'll want to check out the job fair on Thursday, August 31, in the Eagle's Nest during the following times; 9 a.m. – 1 p.m. and 4 p.m. –8 p.m.
Pechanga Hiring managers will be available for on-site interviews and ask candidates to bring their resumes. Most positions at Pechanga require candidates to be 21 or older, however there are some available to those 18 and older. Please check the website for specific criteria for a certain job posting.
Pechanga will open two new restaurants, an additional room service kitchen, a third team member dining room, and a pool beverage service as part of its expanded food and beverage amenities. In addition, the massive expansion is expanding and enhancing the hotel division by doubling the resort and building a new 2-story standalone luxury spa. Golf, housekeeping, valet, bell desk, front desk and the concierge all fall under the hotel division as well.
Job seekers are encouraged to apply online before attending the Pechanga job fairs. Candidates should visit Pechanga.com/careers. Those not able to send an electronic application will be able to complete application at job fair.
In order to fully staff its $285 million resort expansion, Pechanga needs to fill a total of 750 positions primarily in Food & Beverage and Hotel Operations including the spa and pool areas. The expansion includes an additional 568 hotel rooms and suites, a 4.5-acre pool complex, a two-story luxury spa, two new restaurants and another 68,000 square feet of additional meeting and event space.
Positions vary from line level to supervisory and management jobs. Entry level positons at Pechanga start at $10.50 per hour, the California minimum wage, and up.
June 15 and 16, Pechanga Talent Management- Talent Acquisition officials held the largest job fair ever held at the resort. During the two day event, 1,149 prospective employees met with hiring managers. Out of those, 439 applicants either received job offers or moved on to meet with department managers for an additional interview.
Through Pechanga's partnership with Brandman University, Pechanga will be giving away a free college tuition this year to one deserving Pechanga team member, the opportunity including newly hired individuals as well. Team members can elect to take college courses and earn a bachelor's degree through Brandman's MyPath program and receive a full tuition reimbursement. All coursework is online. The college tuition giveaway will make it so that the winning team member will have no out-of-pocket expenses.