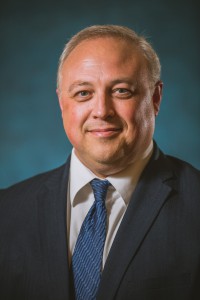 TEMECULA, Calif. — (August 9, 2016) – Pechanga Resort & Casino is pleased to welcome Robert Krauss to the position of Vice President of Public Safety. Krauss has spent the past 19 years at Pechanga, working his way up from a Bingo officer in the previous Pechanga Entertainment Center to a floor officer, a bike patrol officer, a Department of Public Safety detective, an internal affairs officer, the department assistant director, the director and now the role of vice president. He has seen Pechanga change and expand during the last nearly 20 years, though his focus on protecting and ensuring the safety of the resort's guests and team members has remained the same.
Before coming to Pechanga Resort & Casino (then Pechanga Entertainment Center), Krauss spent four years in the United States Marine Corps as a communications officer with the amphibious assault unit stationed at Camp Pendleton, Calif. Two weeks after graduating high school, Krauss says he was taking part in Marine Corps boot camp. His dream was to see more of the country and the world than his hometown of Rome, Wisconsin, population 150.
At Pechanga Resort & Casino, Krauss oversees a team of 300 team members. The Department of Safety works closely with those at other southern California resorts, as well as regional and national law enforcement and the county district attorney's office.
When not at Pechanga, Krauss can most often be found practicing baseball, soccer or football with his five children, or going to their games on weekends.