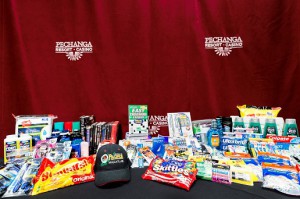 TEMECULA, Calif. – (August 10, 2016) – Last month marked the inaugural Military Appreciation Month at Pechanga Resort & Casino, during which hundreds of guests donated items to our troops overseas and to our veterans. Pechanga collected hundreds of hygiene products, such as toothbrushes, deodorant, chapstick, and razors, plus candy and entertainment products such as books, DVDs, pens, crossword puzzles, and notebooks.
Bingo players who brought in a donated item for troops stationed in the U.S. and overseas received a $5.00 discount on their Pechanga Bingo buy-in during the session of their choice Donations will now be sent to U.S. military members through Operation Gratitude, a nonprofit organization whose mission is to lift the spirits and meet the evolving needs of those serving in active duty and veterans. In addition to the donations, all Pechanga Club card holders with military identification received the value of one free Bingo paper buy-in equivalent to $20.
If you'd like to donate items to our troops overseas, visit OperationGratitude.com/WishList to view a list of items in need. Operation Gratitude regularly sends care packages with these items, including knit hats, scarves, new DVDs, CDs, video games, lip balm, roll-on deodorant, individually packaged razors, pens, shaving cream, travel-sized board games, Halloween candy, t-shirts, baseball hats, and more.
For buy-ins and information on Pechanga Bingo, call 1-855-WE-BINGO or visit www.Pechanga.com.